Fermanagh in turmoil after funding support withdrawn
Last updated on .From the section Gaelic Games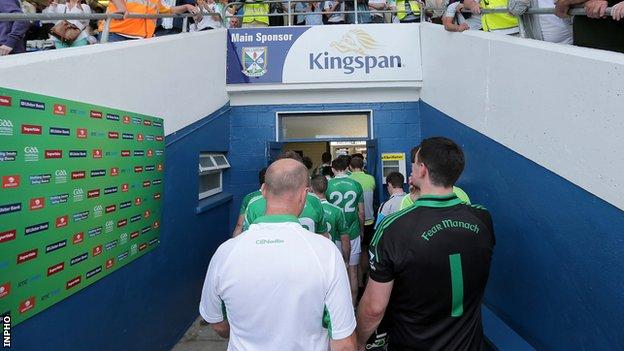 Fermanagh's fund-raising body has launched a scathing attack on the county board and accused two clubs in the county of not co-operating with former manager Peter Canavan.
Club Éirne will now "reassess" its financial support for the county board.
The group claims to have provided between £83,000 and £100,000 per year to the county in the last eight years.
"We are now leaving the field open to our critics to replace that generosity," the group said.
In a hard-hitting statement, Club Éirne, who include former GAA President Peter Quinn as a prominent member, criticised both past and current officials within the county.
"Recent events, which include the on-going campaign of criticism by a number of elected officers... together with the refusal of two clubs to co-operate with the county team manager over recent months, have caused the members of Club Éirne to re-assess their support for the county board.
"We were also dismayed by an earlier comment by an elected county board officer who claimed that, if it costs so much to run the county team, he would be happy enough to see Fermanagh languish in division four of the national league, indefinitely.
"That was not, and is not, our view."
The fund-raising body was founded with the main aim of raising funds to support the Fermanagh senior football team and it has confirmed that all payments were made directly to the county board.
The county is on the lookout for a new manager after Peter Canavan stepped down last month after two years in charge.