Michael Conlan moves up to bantam for World Championships
Last updated on .From the section Boxing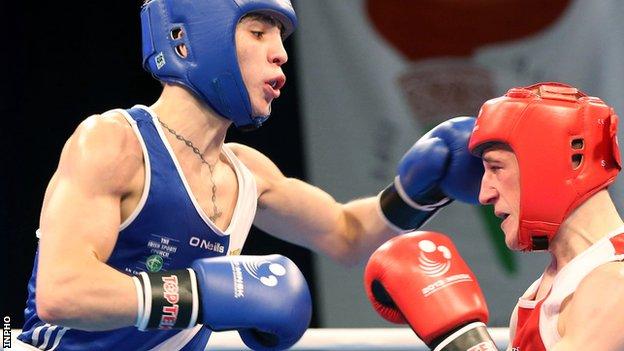 Olympic flyweight bronze medallist Michael Conlan will replace John Joe Nevin as Ireland's bantamweight at the World Championships in Kazakhstan.
Nevin's late withdrawal because of his expected move to the professional ranks looked set to leave the country minus a bantamweight in Almaty next week.
However, Conlan has now been moved up to the 56 kilogram division.
Irish head coach Billy Walsh said that Conlan had been "struggling" to stay at the flyweight limit.
Conlan fought in the World Series of Boxing's 54 kilogram bantamweight limit for the US Knockouts team last season so the Irish management are optimistic that he will be able to compete effectively in the higher division.
After winning Olympic bronze in London 14 months ago, Conlan was beaten by Welshman Andrew Selby in the European Championship final in Belarus in June.