Seeley, Easton, Jacobsen, Wilson set for Sunflower Trophy meeting
Last updated on .From the section Northern Ireland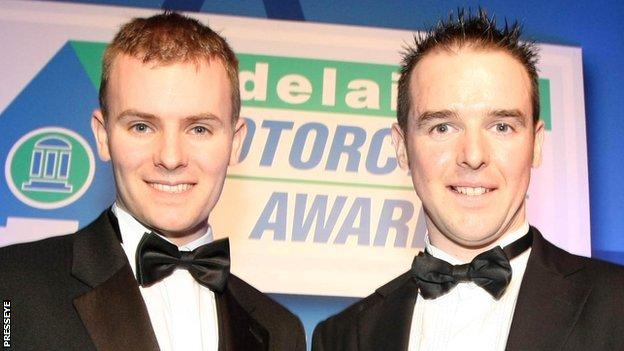 Leading British championship contenders Alastair Seeley, Stuart Easton, PJ Jacobsen and Ben Wilson will compete at the Sunflower Trophy short circuit race at Bishopscourt on 25 and 26 October.
Gearlink Kawasaki ace Seeley will take part in the Superbike and Supersport classes, as will his British Supersport rival Easton, aboard Mar-Train Yamahas.
American Tyco TAS Suzuki star Jacobsen will join them for the Superbike races.
Wilson will be a leading contender for the keenly anticipated 600cc events.
The popular end-of-season meeting is back on the calendar after a year's absence and will again incorporate the final rounds of the Irish and Ulster Short Circuit Championships.
The race was scheduled to take place in early August last year but was shelved because of a lack of sufficient entries from the usual high calibre riders and teams.
Paul Bird Motorsport, who are currently running teams at MotoGP and British championship level, have indicated that they intend to take part in the meeting, but have not yet finalised their rider line-up.
Clogher racer Keith Farmer is likely to be their first choice but it remains to be seen whether he will be able to overcome a bout of illness in time to take in the race.
The organising Hillsborough Club are also in negotiations with the Buildbase BMW British Superbike outfit.
Among the leading local competitors taking part will be Portadown's Marshall Neill on Wilson Craig Hondas, Lee Johnston, Mondello Masters Supersport champion David Haire, Josh Elliott, Nico Mawhinney, Cody Nally, Carl Phillips and Jamie Patterson.
The event will feature a 14-race programme, with three races being held on Friday and the remaining 11 on Saturday.
A 36-strong field will line up for the feature Sunflower Trophy race and there will also be outings for Supertwins, Supersport 400, Moto 3, Moto 450, 125cc, 250cc and sidecar machines.