Alastair Seeley signs for Mar-Train Yamaha Supersport team
Last updated on .From the section Northern Ireland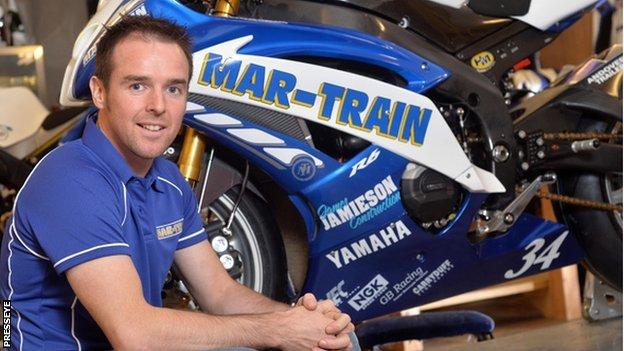 Alastair Seeley has agreed to ride for the Lisburn-based Mar-Train Yamaha team in the 2014 British Supersport series.
The Carrickfergus rider will also compete at the North West 200 in May.
Seeley finished second in this year's British Supersport Championship, riding for the Gearlink Kawasaki outfit.
The 10-times North West 200 winner ended 13 points behind Stuart Easton, who rode a Mar-Train Yamaha this season. Easton will ride for Paul Bird Kawasaki in Superbikes next year.
Seeley is a former champion in both the British Superstock and Supersport classes.
"It was an absolute no-brainer for me to join Mar-Train Racing for the 2014 season. I watched Stuart on the Yamaha R6 all year, so I knew it was a fast competitive package and for me it's the bike to be on," said Seeley.
Another big factor for me was working with a local team again, as this has brought me success in the past - so I'll be doing my best to retain the British Supersport crown for Tim and Sonya and the whole Mar-Train team."
Looking ahead to the North West 200, Seeley is equally convinced that he can give Mar-Train Racing their first victory at the North Coast Triangle, whilst increasing his win tally at his only road race of the season.
"I don't feel a lot of pressure going to the North West. With ten wins racked up already, my aim for the rest of my career is to equal or better the 15 wins of Robert Dunlop at the North West.
"Robert was a great rider, both on the circuits and on the roads, so if I could even match what he's achieved around the North West, I'll feel pretty proud. But the main goal for next season is to get Mar-Train Racing on the top step, everything else after that is a bonus."
The team has yet to confirm what machinery Seeley will ride in the Superbike and Superstock classes at the North West, although Seeley's preferred option is believed to be Kawasakis.
Meanwhile the Moneymore-based Tyco TAS Suzuki team have confirmed that former MotoGP rider John Hopkins will spearhead their attempt to win the British Superbike title next year.
Hopkins replaces Australian Josh Brookes, who looks likely to move to the Milwaukee Yamaha outfit.