Liam Bradley back for second stint as Antrim football manager
Last updated on .From the section Northern Ireland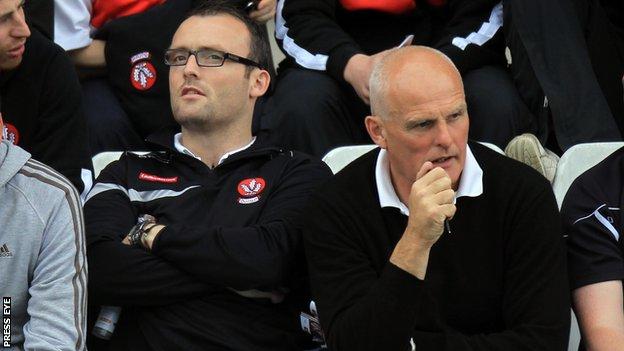 Liam Bradley's expected appointment as Antrim football manager has been confirmed by the county.
Bradley, whose previous spell in charge included guiding the county to the 2009 Ulster final, received the ratification of Antrim's clubs on Tuesday evening.
The manager's backroom team will include his son and Derry attacker Paddy Bradley.
Frank Fitzsimmons, Declan Mullan and Ollie Cummings will be the other members of the management team.
Bradley's previous four-year stint only ended in August of last year when he stepped down from the Saffron role.
However, under new boss Frank Dawson, the Saffrons suffered a very disappointing relegation to Division 4 of the Football League in the Spring and then exited quickly from the Championship after defeats by Monaghan and Louth.
During Dawson's brief reign, a number of players fell out with the management which reduced the strength of the squad.
Despite the team struggles this season, Dawson appeared set to stay on in the job but he then opted to quit on 1 October, claiming that county officials did not share his vision for the team.
With Bradley back the helm, Antrim GAA bosses will believe that the team can produce a much improved 2014 after something of a torrid 12 months.
Antrim chairman Jim Murray described Bradley's appointment as "great news".
"Liam had a massive impact on Antrim during his first term and he remains as positive as ever in his determination to make our team a success. I think he can repeat that success."
Bradley also spoke of his "delight at being back in the fold".
"It's a wee bit of 'here we are again', in Division 4 and looking to get out of it," said Dawson.
"I actually think this time around we have a better squad of players. We will be looking to get everyone back on board and making a big effort at having a successful 2014.
"Make no mistake Division 4 will be hard, there are a few teams down there who will be fighting like hell to escape.
"But I honestly feel that with the hard work, and a sense of togetherness and unity, we will not be far away."
Bradley started his previous reign in 2009 by immediately guiding the Saffrons out of Division 4 before steering them to a shock Ulster Final appearance a few months later.
A year later, Bradley's Saffrons completed back-to-back promotions as they secured Division 2 status and while they were relegated the following year, even his final season in charge included a merited qualifier victory over Galway.
The new Antrim boss said that his son was "chomping at the bit" to get involved.
"The management team includes some of the best young coaches in Ulster.
"Scoring has been a problem for Antrim teams in the past but I actually think we have some great, top-class forwards spread throughout the clubs.
"I will be looking to bring all of them on board and with Paddy's help we can start to rack up some big scores in games."
The 32-year-old former All Star has suffered a number of serious knee injuries in recent seasons and has not played under current Derry manager Brian McIver.