Eoin Bradley to miss Derry league campaign
Last updated on .From the section Gaelic Games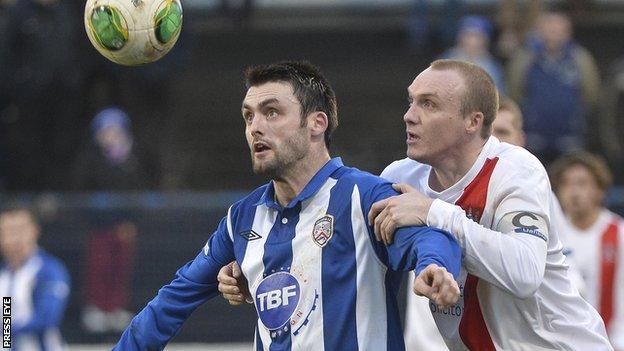 Derry forward Eoin Bradley will not play in the national league this year after signing a contract for soccer team Coleraine until May.
Bradley is also skipping the McKenna Cup campaign but he hopes to return for the Ulster SFC opener against Donegal, if selected by manager Brian McIver.
"I think I can play both sports but Brian doesn't," said Bradley.
"I wouldn't say I've turned my back on Derry - I'm enjoying it at Coleraine and didn't think it would go so well."
Bradley has scored nine goals in an impressive first season with the Irish League club.
The 30-year-old hopes to secure a long-term contract with Coleraine or another Irish League club at the end of the season.
He added: "At this stage of my career there are not many years left. I had to make the decision for myself.
"You get a few pounds and while it's not all about the money, it's nice to get paid for what you're doing.
"I explained the situation to Brian, he understands and said the door is always open. He said if I had done this earlier in my career it would have been better.
"I've played gaelic all my life - there's just not as much pressure playing soccer and I'm really enjoying it."
The Oak Leafers start their championship challenge against the 2012 All-Ireland winners at Celtic Park on 25 May.
With the soccer season not finishing until the Irish Cup final on 3 May, it gives Bradley little time to prepare with the Derry squad.
However, Bradley will continue to play for club side Glenullin and he believes he will be ready for the Donegal clash.
"When it comes to Derry on a Sunday I will miss it," said the plasterer.
"Hopefully, I will wear the Derry shirt again and hopefully it will be in May against Donegal, although I probably won't start.
"I'll be playing with Glenullin and if I'm playing well enough I'm sure Brian will give me a shout."