North West 200: James Hillier to race in all classes
Last updated on .From the section Northern Ireland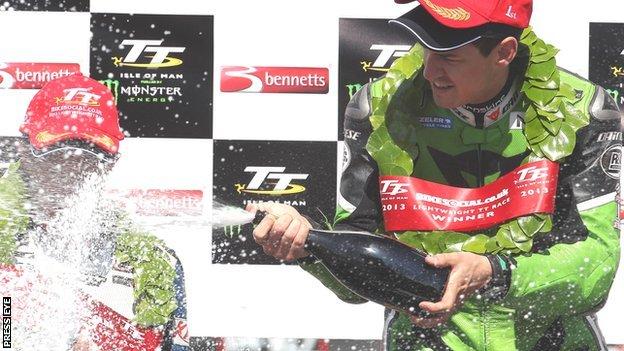 Quattro Plant Kawasaki rider James Hillier is to compete in all classes at this year's North West 200.
The 28-year-old faces a heavy schedule as he will take in the Superbike, Superstock, Supersport and Supertwins events on the Triangle circuit in May.
The Bournemouth rider won the Lightweight class for Supertwins at last year's Isle of Man TT, after finishing second at the North West.
"Probably my best chance of success is in the Supertwins class," said Hillier.
"I would like to improve my position in every class from last year so to do that in the Supertwins I will have to win."
"We will have a new bike that will be better than last year's ER6 with some engine changes and chassis improvements and there is more to come from me as well.
"Over the last couple of years the Supertwins races have been run in damp or wet conditions and I wasn't really sure how hard to push from the start so I hope it will be dry this year and I get away well at the beginning."
His Supertwins rostrum finish was Hillier's second North West podium, after he finished third in the 2012 Superstock event behind Michael Rutter and Alastair Seeley.
"The North West is very different from any other road race because it is all about speed and braking.
"You need to get a good start and be with the boys at the front at the end of the first lap to have any chance of winning. Then it is all down to who can brake the latest on the last lap."
Hillier lapped at an average speed of over 131mph in last year's Senior TT and is set to be one of the men to beat at this year's international road races.