Jamie Hamilton secures supertwins and 600 bikes for 2014
Last updated on .From the section Northern Ireland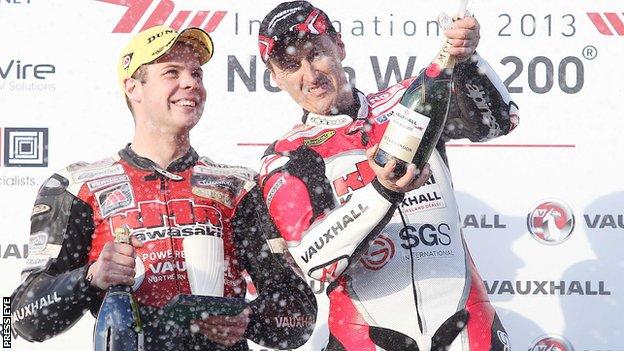 Jamie Hamilton will race in this year's North West 200 and Isle of Man TT after securing supertwins and 600 bikes for the major meetings.
Ballyclare man Hamilton has been on the lookout for new rides since splitting with Ryan Farquhar's KMR Kawasaki team at the end of last season.
He will rides supertwins and 600 machines respectively owned by Stewart Smith and John Dugan this season.
Hamilton, 22, remains hopeful of also securing a superbike ride this year.
The Northern Ireland man won the 600cc race at the Mid Antrim 150 on the Dugan Kawasaki on his way to finishing third in the 600cc Irish Championship last season.
Hamilton is also fully aware of the potential of Smith's Supertwin, having been beaten by it at both the TT and the Southern 100 in 2013 when it was ridden by Dean Harrison.
"I was on the podium in the Supertwins race at the North West last year and I want to win this time out." said Hamilton.
"I really want to win a North West because there are so many local supporters there cheering you on and it was the first road race I ever entered. It gave me a taste for the roads."
Hamilton was voted the Motor Cycling Union of Ireland's most improved rider in 2013 and North West 200 event director Mervyn Whyte described the Ballyclare man's deals as "great news".
The former British 600cc Superstock champion will race at the North West 200, Isle of Man TT, Southern 100 and Ulster Grand Prix as well as all three of the Scarborough meetings in 2014.
He also intends to compete at most of the Irish National road race rounds again after winning the Irish Supertwins championship in 2013.
Although he has yet to find a superbike for 2014, Hamilton says he "isn't stressed" about getting a big bike.
"I have some offers and there are still plenty of seats out there with nobody sitting on them yet.
"The big bike will come and the other bikes that I have secured are race-winning machines."