Injured John McGuinness vows to race at North West 200
Last updated on .From the section Northern Ireland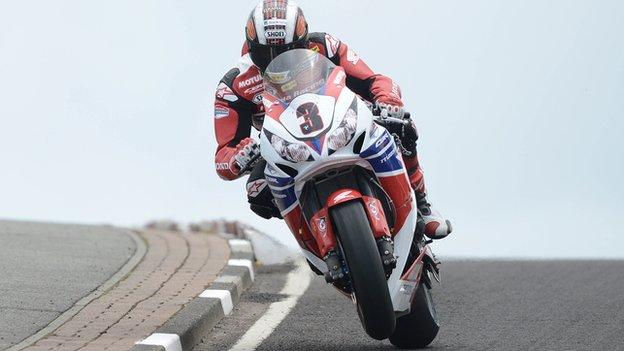 John McGuinness has confirmed that he will race at this year's North West 200 despite breaking a wrist in a crash on his dirt bike this week.
The six-time NW200 winner also damaged ribs and sustained two black eyes, but he is certain he will be fit and ready to race at Portrush on 17 May.
"I've had a couple of operations on the wrist by one of the top surgeons in the country," said the Morecambe rider.
"He is really happy with the way it all worked out."
McGuinness added: "I have a light cast on the wrist now. I have to let it rest for a few weeks and then I will have a month to get ready for the North West in May."
The factory Honda star has been upset by speculation that his rivals will regard his misfortune as an 'opportunity'.
He revealed that he has had encouraging 'get well soon' calls from Northern Irish rivals Michael Dunlop and Ryan Farquhar.
"Ryan and Michael wished me well and said that they wanted to be racing against me at the North West and TT," said the 20-times TT winner.
"We all know that any of us can get hurt riding bikes and racers always look out for each other. That is the way road racing is.
"Things could have been a lot worse because it was a heavy crash in the middle of nowhere.
"I punched a big hole in my helmet and I've two black eyes to go with my sore wrist and ribs, but time is a great healer and I am well on the road to recovery now. "