British Superbike rider Hickman to make North West 200 debut
Last updated on .From the section Northern Ireland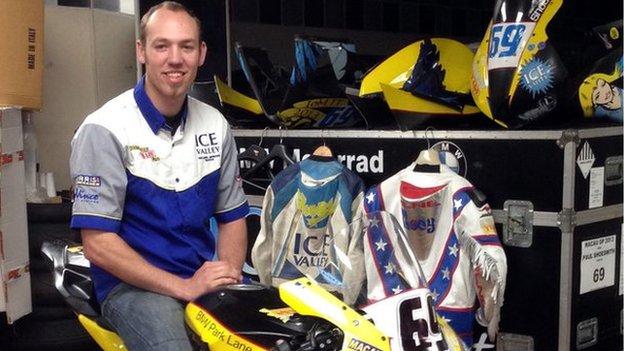 British Superbike regular Peter Hickman is to make his debut at the North West 200 international road races in May.
The 27-year-old will ride BMW machinery in the Superstock and Superbike classes in Ice Valley/Motorsave colours.
"I have always been interested in the roads and I thought this was the right time in my career to give it a go," said Hickman.
The Burton-on-Trent rider finished 11th in last year's BSB series and will also race at the Isle of Man TT this year.
He rode for the GBMoto Racing Honda team last season, but has not yet secured a ride in the British championship this year, leaving him to focus his efforts on his maiden campaign in road racing.
Hickman has been part of the British short circuit scene since 2004 when he won the National Superstock Cup championship on a ZX-10 Hawk Kawasaki.
By 2006 he had moved on to the BSB grid, where he had his best year in 2011 with a ninth place finish in the title race.
"I think that the North West and the TT go hand in hand, you can't really do one without doing the other." he added.
"I talked to a few teams before I joined Paul Shoesmith's Ice Valley squad and they all wanted me to do both events.
"Paul runs a great set-up and it is perfect for me to work with someone like him who can be of help right from the start." he points out.
"I am also good friends with Michael Rutter and I will be bending his ear trying to get some information on the North West course.
"I've watched the on-board dvds and I can see that North West starts are a lot scarier than BSB but I won't be pushing too hard.
"I will take it as it comes, although that is not to say that I want to finish in 20th place. Its just that I won't be making any rash moves."