Natalie Kane leads in Women's World Motocross Championship
Last updated on .From the section Northern Ireland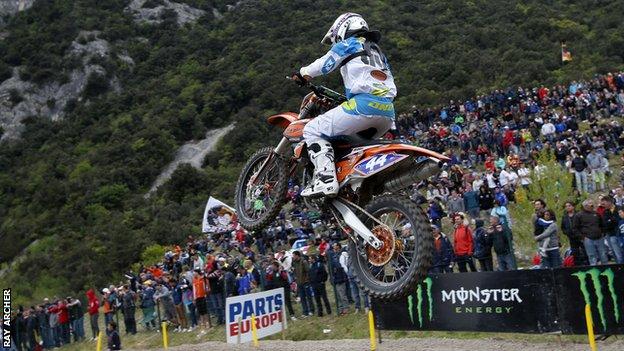 Natalie Kane is the new leader of the Women's World Motocross Championship after Sunday's races at Arco Di Trento in Italy.
Kane finished in third place overall after coming fourth and third in her races and is top of the championship standings for the first time.
The County Down girl felt she could have finished higher in both races.
"I know what we are capable of and we have to find that to stay at the top," she said.
"It was a weekend of mixed feelings for me.
"I am excited to have the championship lead but I was really annoyed because I knew we should have had two results one place higher than I got, and every point is important.
"But we have come out of the weekend with the red plate which is really special and a credit to everyone who has supported me."
Kane holds a two-point lead over Italy's Chiara Fontanesi and is five points ahead of third-placed Meghan Rutledge of Australia.
The next World Championship event is in the sand at Valkenswaard in the Netherlands at the beginning of May.
Kane, from Loughbrickland, is hoping to win the championship, having finished runner-up last year.