The women keeping the North West on course
By Keith Burnside
BBC NI News
Last updated on .From the section Northern Ireland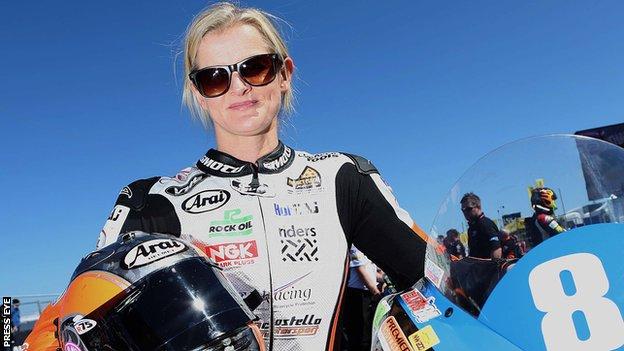 Motorcycling is such a male dominated sport that Maria Costello has made headlines this week as the only female rider at the North West 200.
The 40-year-old from Northampton is competing at the event for the 10th year and says she loves the Triangle circuit.
However, there are ladies working tirelessly behind the scenes, helping make the event run as smoothly as possible.
Gillian Lloyd acts as assistant to Event Director, Mervyn White and his wife, Hazel who gives all-year-round support.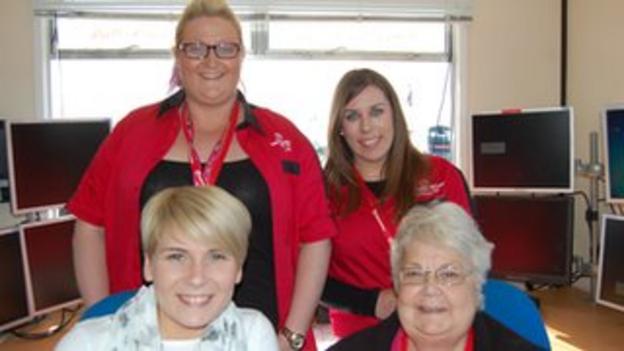 In a full-time role, mother-of-two Gillian looks after the sponsors and deals with hospitality. She is also responsible for the technical information about the riders and deals with general enquiries from the public.
Regular spectators at road racing events in Northern Ireland will be familiar with the voice of Valerie Crichton who is a member of the Race Control Team, which is headed by her husband, John.
Valerie will interrupt the commentators to advise riders about the races and update the spectators when there are delays. She is also involved in training the marshals and, along with Sheena Munnis, looks after lost and found children.
Valerie and Sheena have been part of the North West for many years and on the Friday of race week they invite between 400 and 500 children, mostly from schools around the circuit, to a special programme of entertainment in the pits area.
Two more ladies look after the press and the race results, both in practice and on race day.
Lisa Hemphill, assisted by Roisin Baxter, deals with the world's media and assists the BBC with their live coverage. They started coming to the North-West 200 to help their respective fathers, John Adams and Terry Butcher who manage the course.
This year they will be dealing with journalists from South Africa, Italy, Germany and Belgium.
Another father and daughter team is Leslie and Jacqueline Doherty who, with son David, make up the First Aid Controller medical team.
They are responsible for the well-being of not just the riders, but also the hundreds of volunteers and thousands of spectators and residents around the course.
Now all that is needed is a little lady luck with the weather.