James McCartan optimistic ahead of Ulster clash with Tyrone
By Orla Bannon
BBC Sport NI
Last updated on .From the section Northern Ireland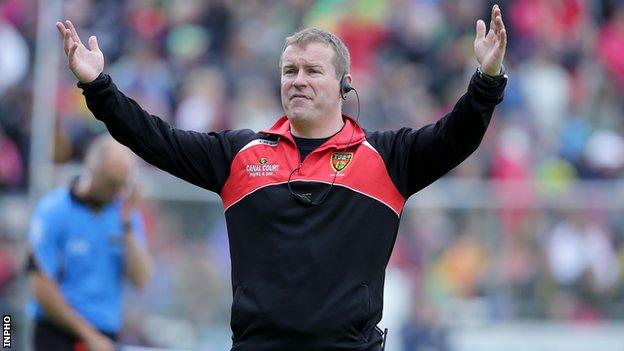 When James McCartan was weighing up whether to stay on as Down manager for a fifth year, he had every right to think he might carry a little luck into the 2014 season.
He certainly didn't have much of it in his first four years.
Yet a few weeks after committing to the red and black again, Down were handed the toughest provincial draw of any team in the country - needing to beat championship specialists Tyrone and then see off defending Ulster champions Monaghan just to reach an Ulster semi-final.
When you consider that Sunday's preliminary round Ulster SFC tie against Tyrone will be the fifth year out of five that McCartan has been away from home in the Ulster championship, it's hard not to have sympathy with him.
"I would just love to have had an Ulster championship match at home some time," he admits.
"We're hard to beat in Newry and we just can't buy a game there.
"In my time, we've had two qualifiers in Newry, against Longford in 2010 and Leitrim in 2011 and nothing since.
"We haven't had a home game in Ulster since 1999. Apparently we did have a home draw in 2003 but we had to go to Casement for health and safety reasons.
"Since 2003 we've been going for red and it's been coming up black so my percentages at the roulette table wouldn't be so good."
The players are unswerving in their belief that McCartan is the man best equipped to end the county's 20-year wait for the Anglo Celt Cup.
Yet since leading the team to a surprise All-Ireland final appearance in his first season as manager in 2010, McCartan has suffered overwhelming losses to the squad through emigration and injury.
So much so that the team which takes to the field in Healy Park in Omagh on Sunday will bear little resemblance to the talented group of players he had at his disposal just a few years ago.
Talk of Tyrone being in transition seems a tad ironic to a manager who lost Martin Clarke and Caolan Mooney to the AFL while work commitments have also robbed him of Ryan Mallon (who is in Belgium) and, closer to home, Kalum King.
"I would like to be able to transition a Down team where you're bringing in players who have won All-Ireland minor and so on," he says dryly.
"The conveyor belt in Tyrone and Dublin is the envy of the rest of the country.
"We don't have that, so we have to try and maximise the pool of resources that we do have, and we have done that in the past.
"Of course I would love to stretch our net wide across the county, country and globe and have everybody who should be playing for Down available.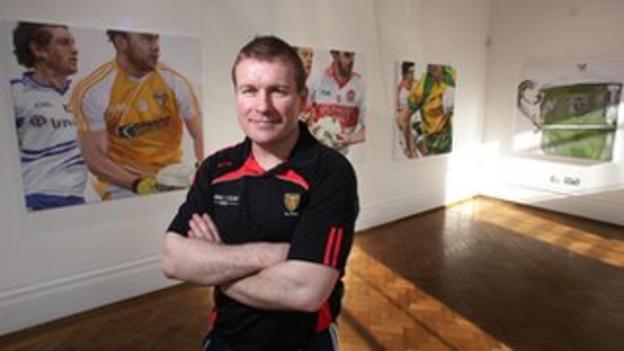 "But I have to concentrate on the guys who are here.
"They did very well last year, they didn't shirk any challenge, and they all have a year's experience under their belt now."
Down have never had any problem punching above their weight.
Donegal and Monaghan contested the Division Two League Final this year and Down took three points out of four off them during the campaign.
Against the middle and lower ranked teams Down can often show more perspiration than inspiration, but when it comes to playing the top teams on the big day, they tend to raise their game.
The famous Down swagger has been in evidence a few times under McCartan.
Ulster SFC victories against the head away to Donegal, Fermanagh and Derry provide Down with reasonable hope that they can add Tyrone to that list and set up a home quarter-final against Monaghan in Pairc Esler on June 15.
"It is a tough draw having to go to Healy Park against a top team like Tyrone but we feel that if we maximise our strengths and the rub of the green goes our way, it's a game we're capable of winning," said the Down boss.
"Our return on the road in the Ulster championship has been relatively good.
"We have failed once on the road, in Armagh in 2011, but in my time we have played four away games in the first round in the Ulster championship and we've won three of them.
"When we go out on the front foot we are a match for most teams in the country."
All they need is a little luck to shine on the Mournes once in a while.