Michael Dunlop sets fastest Supersport lap in TT qualifying
Last updated on .From the section Northern Ireland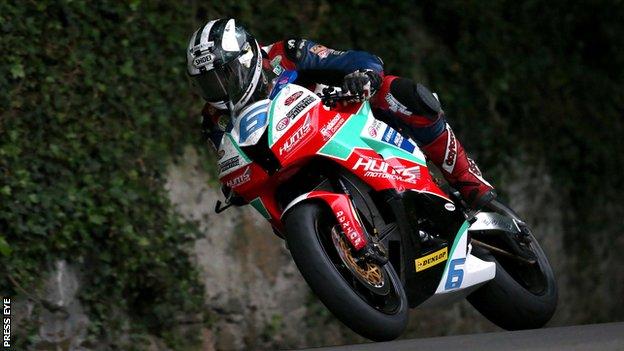 Michael Dunlop set the quickest time in qualifying at the Isle of Man TT on Thursday night, topping the Supersport timesheets in a disrupted session.
Damp conditions meant only the F2 sidecars, Lightweight machines and Supersport bikes were in action.
Late in the session, Dunlop clocked 124.537mph to set the fastest Supersport lap of the week.
In the Lightweight category Keith Amor and Ryan Farquhar were fastest, lapping at 116.206 and 115.593mph respectively.
Conditions for the fourth qualifying session were cool and overcast with damp roads reported from Guthrie's to Kate's Cottage.
The sidecars got the action underway with John Holden quickest with a lap of 111.586, ahead of Ben Birchall (111.280) and Tim Reeves (108.306).
In the Lightweight category, the SGS International/KMR Kawasaki machines of Keith Amor and Ryan Farquhar were fastest, circulating together for much of the second lap.
Jamie Hamilton was also on the pace at 114.212mph and following him were Gary Johnson (113.843), Ivan Lintin (113.478) and Dean Harrison (113.062).
William Dunlop was quickest on the opening lap of the Supersport qualifying with a speed of 120.683mph with Michael Rutter, Josh Brookes and Gary Johnson also over the 120mph mark.
Bruce Anstey went slightly quicker with a lap of 122.290mph but right at the end of the session the leaderboard changed again with Michael Dunlop lapping at 124.537mph.
Dean Harrison was five seconds slower at 123.886mph while Conor Cummins and James Hillier also posted laps of over 120mph.
Due to the disrupted qualifying during the week, Friday's session will have Superbikes, Supersport and Superstock machines in action between 18.20 and 20.00,
Sidecars take to the roads between 20.05 and 20.35 and TT Zero qualifying takes place between 20.40 and 20.55.