TT 2014: Broken wrist my 'worst nightmare' - John McGuinness
Last updated on .From the section Northern Ireland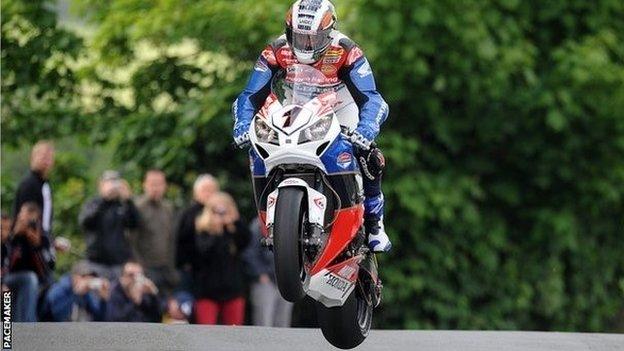 Twenty-time TT winner John McGuinness has said breaking his wrist just weeks before the Isle of Man event was his "worst nightmare."
Despite running at the front of the field in practice he acknowledges he is not 100% fit for Saturday's opening Superbike TT race.
"I've had an injury and I have to hold on to a 210 horse power bike for 1 hour 45 minutes flat out - it's a big ask."
Last year the Morecambe racer claimed his 20th TT win in the Senior race.
Just 11 weeks ago he suffered a broken wrist and ribs as well as leg and liver injuries and ligament damage in an accident on his off-road motorbike.
The 42-year-old said: "I hit a rock and when I say rock it was connected to the earth's core. It must have been there when dinosaurs were walking around and it stopped me dead.
"When I hit it I was in so much pain I thought I would never ride again. I was in a bad place and all I could think about was missing the Isle of Man TT.
"I've had my head down with the physio and I've done everything I possibly can to be fit and ready but it has been tough. It was my worst nightmare I thought I would miss the TT."
McGuinness, who competed at the North West 200 last month where he described his performance as "rubbish", will start first on the road in Saturday's opening six lap (226.38 mile) Superbike race.
The Honda rider continued: "I'll do my best and have to see if it holds up over six laps. The bike is good and the team is the best in the paddock so we'll have to see.
"They want to see me enjoy myself and hopefully I won't be a million miles away - I am used to winning - I am here to win but I have to be realistic as well.
"I rode at the North West and I was rubbish but this is my playground and I will do my own thing.
"It's the best track in the world and I've had a good run - I'm not laying down just yet.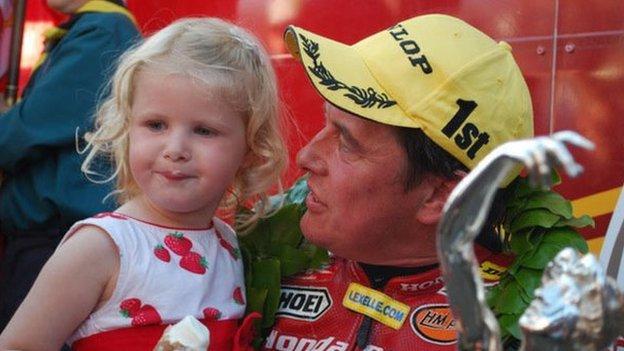 "We'll see what happens on Saturday but winning here is the best feeling in the world.
"When I am here it's like being a rock star for two weeks."
Last year he produced a stunning ride to win the blue riband Senior TT, denying Michael Dunlop a clean sweep.
McGuinness will again campaign the Honda CBR1000RR Fireblade.
The "Morecambe Missile" is just six wins away from Joey Dunlop's all-time record of 26 TT wins.