Isle of Man TT: William Dunlop ready for island endurance test
By Richard Petrie
BBC Sport NI
Last updated on .From the section Northern Ireland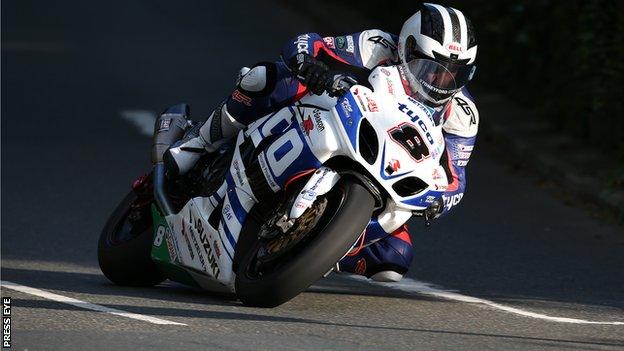 When William Dunlop tells you he has been working out regularly and has added mixed martial arts to his training regime, you know he is serious about winning international road races.
Never renowned for his love of the gym, the elder of the Dunlop motorcycle racing brothers confesses to being a convert to the kind of rigorous physical preparation required to be competitive in gruelling races on the demanding Isle of Man TT Mountain Course.
While weight loss has been part of his younger sibling Michael's recipe for success in recent years, William has added around two and a half stone to his frame in a bid to secure a maiden TT success.
"I've realised that to be in with a chance in the longer races you have to take your fitness seriously and build up your stamina," explained the 28-year-old.
"I've joined the Tyco TAS Suzuki team this year and they have encouraged me and changed the way I've done certain things.
"I'm happy in the team - everyone gets on well and understands what we're trying to do, which helps me go faster.
"Everyone knows I'm comfortable on the Supersport bikes but I want to prove I can be a real force on the Superbikes too.
"Stewart Johnstone, the head technician at TAS, has helped me adjust my riding style for the big bikes and it has paid dividends already," added William who overhauled Michael on a thrilling high speed final lap to win the opening Superbike event at the recent North West 200.
Laid back and quietly-spoken, that victory helped William emerge somewhat from the shadow of his more straight-talking brother and now he is eager to establish himself at the top of the rostrum in the ultimate road race of them all.
"I'm happy on the 600 Suzuki and I know I can be at the sharp end in those races right from the start.
"There's a bit more to learn on the Superbike and a bit more set-up to do on the bike, but a podium finish is a realistic target. I also have the Metzeler tyres to get used to, having previously used Dunlops."
Winner of 84 Irish national road races, four North West 200s and seven Ulster Grand Prixs, William's best finishes to date at the Manx motorcycling festival are two third places in Supersport race one in 2012 and 2013.
Having gained some initial experience of the circuit, he opted to sit out the 2008 event following the death of his father Robert in a crash at the North West 200.
In the wake of that tragedy, William hinted at quitting road racing in favour of pursuing a short circuit career, but was soon back in the saddle 'between the hedges'.
His progress was highlighted last year when he became the first Yamaha rider to lap the TT circuit at over 130 miles per hour in the blue riband Senior class.
This time out, he is one of the top 10 seeded riders for the first time, having been handed the number eight plate.
"It's been frustrating to be well down the starting order for a few years, but this should give me less traffic to get through and boost my chances," he added.
Meanwhile Dunlop's TAS team boss Philip Neill is hoping to end a two-year barren spell without a top-three position for the Northern Ireland-based outfit.
"William has fitted into our set-up perfectly. He's a quiet lad but is happy to learn and take on board everything we've said to him," said Neill.