Terry Hyland claims pressure is on Armagh to win Ulster SFC tie
Last updated on .From the section Gaelic Games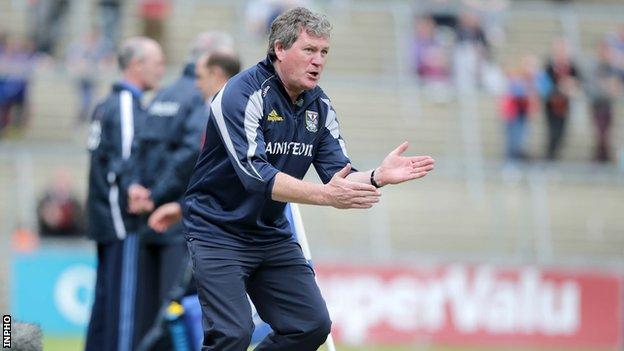 Cavan manager Terry Hyland says his players are "insulated" from the growing expectancy within the county.
After winning four Ulster Under-21 titles in a row, Cavan supporters are impatiently waiting for a senior title.
The Breffni county, who haven't won the competition since 1997, play Armagh in Sunday's Ulster SFC quarter-final.
"The supporters always expect something from Cavan so there's nothing different in that, but the lads know they have to perform and feed off that," he said.
Cavan beat Armagh by four points when the teams met in last year's Ulster championship.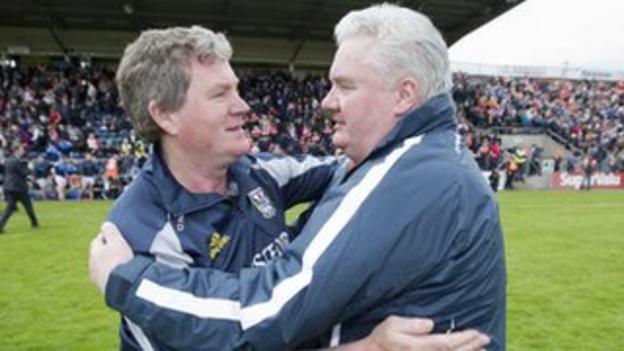 Armagh manager Paul Grimley was criticised for playing with no sweepers, which Cavan forward Martin Dunne exploited, kicking nine points in Breffni Park.
Hyland anticipates a more cautious approach from Armagh on Sunday and does not expect Dunne to get a lot of space in the Athletic Grounds.
He also predicts Armagh will be feeling the pressure from the home supporters to reverse the result of twelve months ago.
"They were probably a little bit sore about last year and when you go back to your home ground it brings its own pressures," said Hyland.
"The home crowd will probably be expecting them to put up a much better performance than they did last year.
"The revenge factor might get the temperament of the game up, and it might move a little bit faster as a result.
"But it will level out after a ten or fifteen minute period and then everyone will have to go off and play football."