Motorcyclist Danny Webb makes move from MotoGP to public roads
By Richard Petrie
BBC Sport NI
Last updated on .From the section Northern Ireland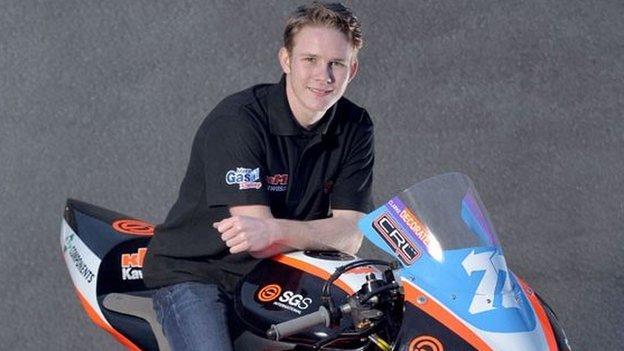 The fact that motorcycle racer Danny Webb called his pet 'Jack Russell' dog 'Joey' should perhaps have offered a clue that he would one day ply his trade on public roads.
The 23-year-old spent recent seasons competing on short circuits such as the famous Dutch Assen circuit at world championship level.
But this year made his debut at the Isle of Man TT and is now about to take in the Armoy Irish national road race.
"Joey was a big hero of mine and of my dad too," explained Webb, in reference to legendary 26-time TT winner Joey Dunlop.
"When I was in the grand prix paddocks I always said that I'd love to do the TT, but when people asked me about it they thought I was crazy. I don't think any of them actually believed I'd go ahead and do it.
"I was approached about doing Armoy and thought why not, I'll see what it's all about. I know the Irish are fanatical about their road racing and it's a good track. It will be another experience and another box ticked."
The Tunbridge Wells rider raced in 125cc and Moto3 grands prix, support classes to the main MotoGP class, for seven years, claiming a pole position, a best finish of fifth and a best championship position of 10th.
However Webb, who has also raced in the World Supersport series, suffered a badly broken arm midway through last season and ended up losing his ride with the Ambrogia Racing team, prompting him to try his hand at road racing.
He admits to being in awe of road racers when he first visited the Manx road racing festival in 2009 as a guest of honour and was so taken with the event that he immediately indicated a desire to race there one day.
"It was just completely different. I watched those guys going down Bray Hill and suddenly I didn't feel like a motorcycle racer. I want to earn some of the respect I had for them.
"I went there unsure whether I was going to scare myself - I didn't know whether I'd love it or hate it, but I loved it and did better than I expected. I was over the moon with my lap speeds and my results.
"It's a dangerous place so I just went out there and enjoyed myself - I wasn't looking to make any huge impact in my first year. The bikes were prepared immaculately and the KMR Kawasaki outfit was a fantastic team to be part of."
The ex-grand prix rider set about learning the Mountain Course circuit methodically and put in steady performances as a newcomer in the Superstock and Lightweight Supertwins classes, finishing 37th and 12th respectively in the two races, collecting bronze and silver replicas.
He followed those up with a 30th place in the blue riband Senior TT, setting a fastest lap of 120.99mph.
"Danny did his homework, learnt the circuit in the proper way and progressed lap by lap," observed Webb's KMR team boss Ryan Farquhar, himself a three-time TT winner.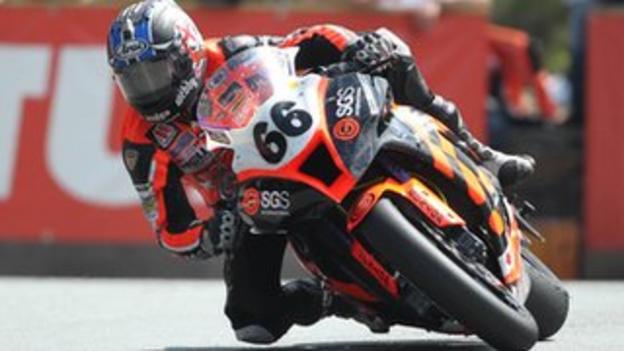 The pair met at a race meeting in Valencia a couple of years ago and a conversation about the TT helped form the relationship which will see the young English rider now make his Northern Ireland road racing bow on the narrow roads which make up the County Antrim circuit, near Ballymoney.
"I mentioned that I'd like to do the TT some day and Ryan said that if I ever did decide to do it I should get in touch with him.
"I went over to the Isle of Man and put in as many laps as I could in the car and also watched on-board camera laps just so that I knew where I was going. It takes time to learn and all the bumps and jumps are a lot different in real life.
"The first part of the lap and the Mountain section weren't too bad but the middle bit was tough. It's very different from grand prix in that you are racing on your own, not banging handlebars like you are on the circuits.
"My plan is to keep going back to the TT, not just doing it as a one-off thing. I had a few options in Moto3 and World Supersport but it all came down to budget and how much money I could bring to the teams.
"Hopefully the TT is the start of a new career for me and it's definitely something I wanted to do, so I'm concentrating on that for now and will see where it leads.
"A full-time British Superbike ride is also an aim and I'd have a look at doing the North West 200 in the future too."