Southern 100: Guy Martin retains Solo Championship title
Last updated on .From the section Northern Ireland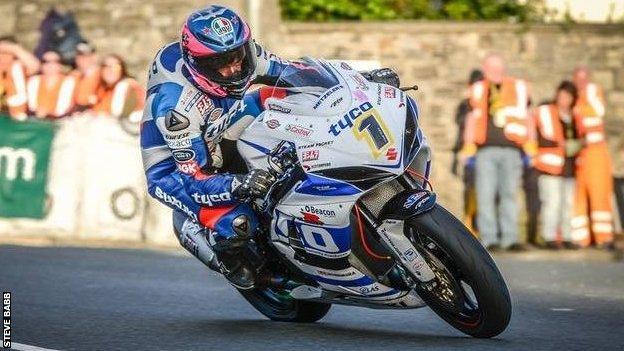 Guy Martin retained his Southern 100 Solo Championship title by edging out Dean Harrison, who finished the week with a remarkable tally of five wins.
Harrison led for most of the race, setting a new lap record at 114.601mph, but was overtaken by Martin, who led by just 0.6 seconds at the chequered flag.
It was Martin's third success in the feature event of the meeting.
Earlier, Harrison beat Martin to the flag in the 600cc race and then came home first in the Supertwins class.
Harrison, 25, from Bradford enjoyed a two-second advantage over his Lincolnshire rival at the end of the 600cc outing, with Manxman Dan Kneen third.
The victor set a new lap best speed for that class at 110.431mph on the fifth lap on his Mar-Train Yamaha.
Harrison switched to an RC Express Kawasaki for the Supertwins and was awarded the win by 0.001 seconds over James Cowton after the riders flashed across the finishing line together.
Harrison's other successes earlier in the week came in the 1000cc race, the Senior class and the first 600cc event.
Martin, who first claimed the biggest prize on offer at the Billown circuit meeting in 2009, admitted after Thursday's win that he "got lucky with the back-markers" in the latter stages.
"It was a mega race and I'm just glad to have come out on top," added Martin, who collected a winner's cheque of £3,400.
Michael Dunlop completed a disappointing week by retiring in both the 600cc and Solo Championship events.
Meanwhile Conrad Harrison, father of Dean, followed up his TT sidecar victory by winning the Sidecar Championship race.
Harrison and passenger Jason Crowe saw off the challenge of runners-up Dave Molyneux and Bejnamin Binns after early leaders John Holden and Andy Winkle retired.