Jamie Hamilton aiming to ride at Ulster GP despite injuries
Last updated on .From the section Northern Ireland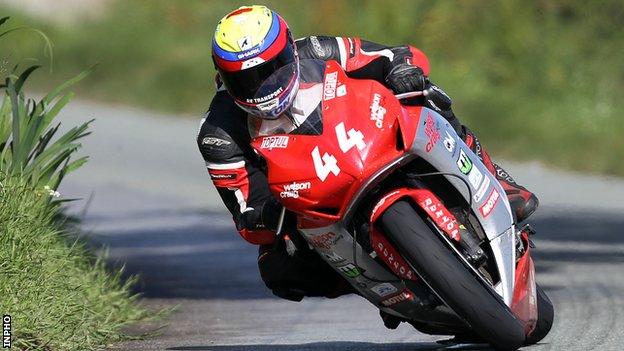 Jamie Hamilton is confident he can shake off the injuries he suffered in his crash at the Skerries 100 to mount a challenge at the Ulster Grand Prix.
Hamilton, 23, broke his pelvis, cracked his sternum, dislocated his shoulder and suffered bruising to his lungs following his Skerries accident.
"When I start reading the list of injuries I realise I probably shouldn't be standing here," said Hamilton.
"I certainly didn't expect to feel so good this quickly."
Hamilton suffered the accident after a coming together with Dan Kneen in the final race of the day at the Dublin meeting.
However, Hamilton has said that the crash was "no-one's fault" as he hopes to make his return to action this weekend at Armoy before competing at the Ulster Grand Prix meeting which takes place from 11-16 August.
"The plan now is just to pass the medical and get out at Armoy. If I feel good after practice I'll definitely be racing again," he added.
"I was competitive last year [at the Ulster Grand Prix] with my first 130mph lap and I'm coming off the back of some strong results so I can hopefully wipe this accident aside and still be fast.
"After we came back from the TT we really had the bikes sorted and I was riding the best I've ever been, so hopefully I can pick that up again."