Eugene Laverty's belief still strong despite 2014 superbike struggles
By Matt Gault
BBC Sport NI
Last updated on .From the section Northern Ireland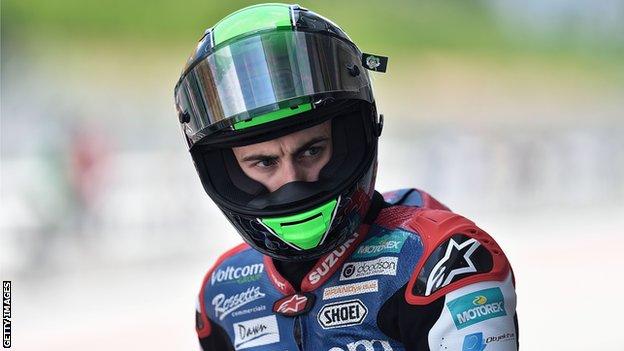 Eugene Laverty insists that his self belief remains strong despite his struggles in this year's World Superbike Championship.
Laverty describes his 2014 campaign as "incredibly tough" amid some well-documented bike problems and a foot injury.
"Last year I was fighting for the World Championship with nine race wins and being on the podium just about every weekend," Laverty told BBC Sport Northern Ireland.
"Sometimes the bike has only been capable of finishing fifth or sixth and it's been difficult for me to accept and sometimes I've crashed as a result of that.
"Some of the European tracks have been tight and twisty and this bike hasn't been as nimble but we're starting to figure out how to improve the machine."
The 28-year-old has broken his foot twice this season which hampered any chance of a revival but he remains determined to battle for titles again in the near future.
"I want to win again. For me it's all about winning races and getting back up on that podium again," Laverty said.
Laverty also confirmed that he is mulling over a number of options for 2015 as racing enters its "silly season" and will consider what manufacturer to race for next year as he aims for another shot at a World Championship.
"The nice thing is, even though it's been a tough season, there are still offers on the table.
"So it's a matter of choosing the right one and getting my career back on track because it's been a bad year and the important thing is not to make that two," he said.
Last year, Laverty was dropped by Aprilia after they signed Marco Melandri as the Italian company opted to pick one of the own to partner Sylvain Guintoli this season.
"Passport definitely is an important thing nowadays because if your face fits and you have the right nationality then perhaps it can become easier," Laverty explained.
However, despite facing a series of setbacks, Laverty has his sights set on positive headlines again and admits that he has been working hard in the gym to increase his chance of success.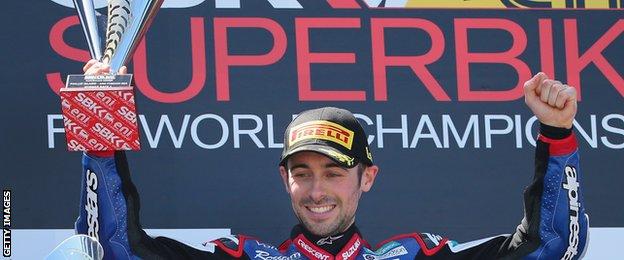 "The most important thing for me is the gym work. I'm a slight guy so every day after cycling or running I have to go to the gym to keep strong," he said.
As for the future, Laverty has not ruled out the possibility of joining his brother Michael in Moto GP but insists he will only go if the right opportunity comes along.
Laverty said in July that he held discussions with Suzuki, Ducati and Aprilia over a potential move to Moto GP for 2015 but nothing has been firmed up yet.
"I'd definitely like to race in Moto GP but I don't want to go just to make up the numbers. If there isn't a chance to move there and be successful then I'd rather continue winning in World Superbikes," he said.
Laverty remaining races this season will take place in Jerez, Magny Cours and Losail in Qatar.