Marshall Neill secures Bishopscourt hat-trick
Last updated on .From the section Northern Ireland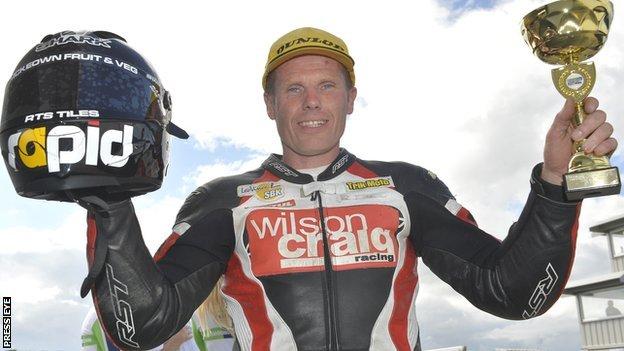 Portadown rider Marshall Neill secured a hat-trick of wins in the Superbike races at the Adelaide Masters round at Bishopscourt, County Down, on Saturday.
Kawasaki-mounted Neill won the 10-lap Norman Brown Cup Grand Final by 0.5 seconds from runner-up David Haire, with Gerard Kinghan third.
Neill also won both rounds of the Masters series, with Haire and Cody Nally taking second-place finishes.
Nikki Coates and Jamie Patterson enjoyed Supersport 600cc successes.
Bishopscourt Adelaide Masters results
Norman Brown Cup Grand Final - 1 Marshall Neill; 2 David Haire; 3 Gerard Kinghan; 4 Nikki Coates; 5 Alistair Kirk; 6 Jamie Patterson
Adelaide Masters race one - 1 Marshall Neill; 2 David Haire ; 3 Brian McCormack; 4 Cody Nally; 5 Alistair Kirk ; 6 Nikki Coates
Adelaide Masters race two - 1 Marshall Neill; 2 Cody Nally; 3 David Haire; 4 Gerard Kinghan; 5 Brian McCormack; 6 Alan Bonner
Supersport 600cc race one - 1 Nikki Coates; 2 Robert Kennedy; 3 Jamie Patterson
Supersport 600cc race two - 1 Jamie Patterson; 2 Carl Phillips; 3 Nikki Coates