Ulster Grand Prix: Anstey fastest in Superbikes practice
Last updated on .From the section Northern Ireland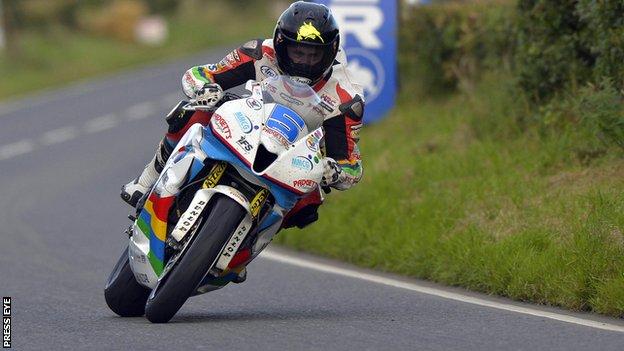 Bruce Anstey will be on pole in the Superbike races at Saturday's Ulster Grand Prix after setting the fastest time in practice at Dundrod.
The New Zealander went round at 133.16 mph with Guy Martin second, William Dunlop third and Michael Dunlop fourth.
Michael Dunlop (131.66) was quickest in the Superstocks while Lee Johnston (126.83) topped the Supersport times.
Ivan Lintin (118.08) was fastest in the Supertwins while Englishman Danny Webb suffered fractures in a crash.
Webb came off at Windmill in Supersport practice and was taken to hospital for assessment.
James Cowton (110.91) was best in the lightweights and Christian Elkin (106.50) fastest in ultra lightweight 125s.
Fastest times from UGP practice:
Superbikes: 1. Bruce Anstey 133.16; 2. Guy Martin 132.80; 3. William Dunlop 132.04; 4. Michael Dunlop 131.68; 5. Lee Johnston 131.68; 6. Dan Kneen 131.21.
Superstock: 1. Michael Dunlop 131.66; 2. Dean Harrison 129.77; 3. Guy Martin 129.60; 4. Lee Johnston 129.26; 5. Peter Hickman 129.24; 6. Dan Kneen 129.20.
Supersport: 1. Lee Johnston 126.83; 2. William Dunlop 126.57; 3. Michael Dunlop 126.56; 4. Dean Harrison 126.43; 5. Bruce Anstey 126.37; 6. Guy Martin 125.76
Supertwins: 1. Ivan Lintin 118.08; 2. Lee Johnston 117.78; 3. Kieth Amor 117.13; 4. Conor Behan 116.71; 5. Michael Sweeney 116.42; 6. Dan Cooper 115.88