Jamie Clarke cancels travel plans in boost for Crossmaglen
Last updated on .From the section Northern Ireland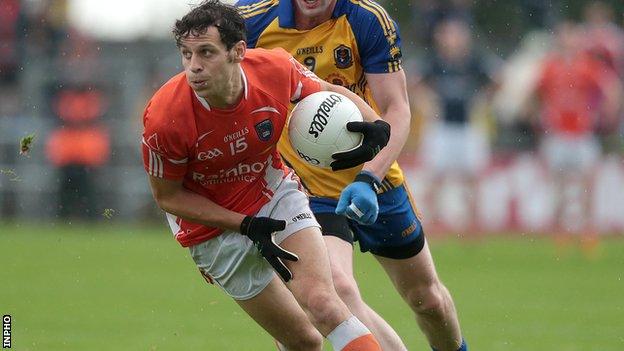 Jamie Clarke will be available to Crossmaglen and Armagh after cancelling plans to live in Spain for nine months.
Clarke had informed Crossmaglen he would be unable to play in the club championship and was also set to miss Armagh's League campaign next spring.
Joint-manager Oisin McConville is delighted his star player has done a u-turn and is staying at home.
"Jamie's decided not to travel and has committed to us for the rest of the season, it's brilliant news," he said.
Clarke will be part of the Crossmaglen squad which plays Carrickcruppin in the Armagh club championship this weekend.
His decision to stay at home is also a huge boost to new Armagh manager Kieran McGeeney's hopes of promotion out of Division Three in 2015.
"We don't treat Jamie any differently to anybody else but without stating the obvious he is a key player for us and we are delighted to have him back," McConville told BBC Sport NI.
"It is magnificent to have Jamie playing for Crossmaglen Rangers and obviously Armagh will benefit from having Jamie with a club championship campaign behind him.
"The more football Jamie plays the better he will be and we are delighted to have him back.
"It is business as usual now, we were going to plan the season without him and it is fantastic that since he came to training on Sunday morning and Tuesday night that we are planning the season with him."