Eugene Laverty moving from World Superbikes to MotoGP
Last updated on .From the section Northern Ireland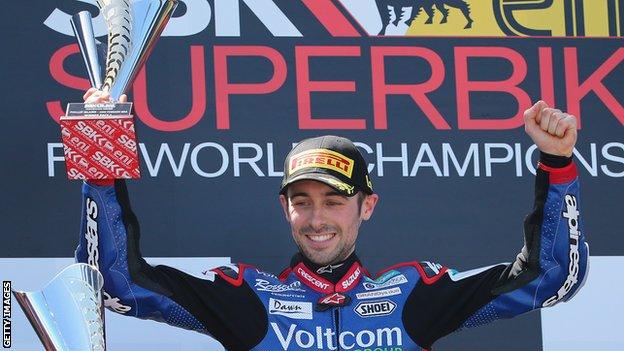 Eugene Laverty is leaving the World Superbike Championship to race in MotoGP next year.
The 28-year-old Toomebridge rider, who has 13 World Superbike victories, has yet to confirm which MotoGP team he will be competing with.
Laverty won this season's opening race in Australia with Crescent Suzuki but has struggled since and lies seventh in the 2014 series.
His brother Michael competes in MotoGP with the Paul Bird Motorsport team.
"We still have two rounds remaining and my aim is to climb back up on that rostrum before I move to MotoGP in 2015," said Eugene.
"I'd like to thank everyone at Voltcom Crescent Suzuki for all their efforts this season.
"We started the year fantastically with a win first time out at Phillip Island, something nobody expected us to do.
"Even if the results haven't always come our way, I've really enjoyed working with the team and the GSX-R, there is so much potential there. "
Crescent Suzuki team manager Paul Denning hopes Laverty can finish his World Superbike career with a flourish.
"We wanted to move forward with Eugene into 2015 but at the same time we completely understand his desire to compete in MotoGP," he said.
"He has been a pleasure to work with and, even though a black cloud of bad luck seems to have followed us and the consistency of results has not been what we both hoped for, Eugene has given us and Suzuki some very special moments including of course the victory at Phillip Island.
"It is positive to see a skilful, intelligent Superbike rider's abilities recognised by a strong MotoGP team.
"We are looking forward to the last two rounds together - let's hope we can finish this season with Eugene as strongly as we started."