Mar-Train Racing to pull out of Supersport series in 2015
Last updated on .From the section Northern Ireland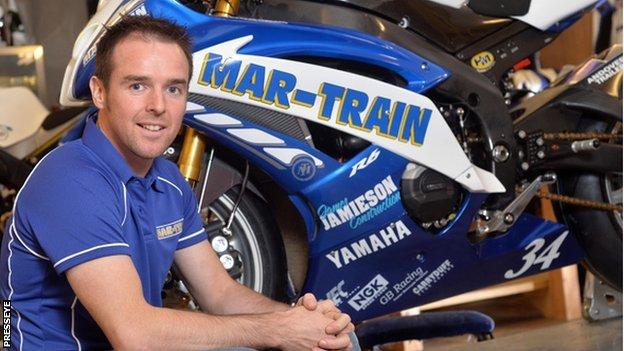 Mar-Train Racing have revealed that they will not compete in the 2015 British Supersport championship.
The Lisburn-based team has enjoyed three consecutive seasons in the series, including a championship success with Stuart Easton in 2013.
The Northern Ireland outfit have run Alastair Seeley in this year's Supersport series, and also took in the three international road races.
They say they will "take a sabbatical to concentrate on other projects".
"The decision in no way reflects on the strength or quality of the aforementioned British series, and Mar-Train Racing will give every effort to try and retain the title with Alastair Seeley in the remaining four races this year," read a statement.
"In just three seasons, Mar-Train Racing has taken 41 British Supersport Championship podiums and 22 race wins; not to mention numerous lap records, pole positions and plenty of drama on the way to finishing second in our debut season with Irishman Jack Kennedy in 2012.
"We also have great memories from 2013 when we won a nail-biting finale on the final day at Brands Hatch to take the British Supersport title with Stuart Easton.
"This season double British champion Alastair Seeley has done the team proud with six wins from his nine podiums to date, and as previously mentioned, despite a 55-point deficit, retaining the title is still mathematically possible and we will give it our best shot."
"An announcement will be made in due course on our racing schedule for 2015."