North-West 200: McConnell and Irwin poised for debuts
Last updated on .From the section Northern Ireland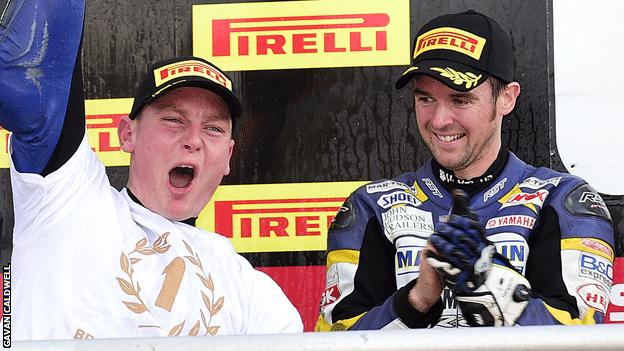 Australian star Billy McConnell hopes to make his debut at the North-West 200 road races next May.
The recently-crowned British Supersport champion was at last year's North-West as a mechanic to Gary Johnson and Michael Rutter.
McConnell has spoken with race director Mervyn Whyte who recently visited Silverstone to sign up new riders.
Glenn Irwin from Carrickfergus, fourth behind McConnell in the Supersport series, will be competing at the NW200.
He made his road racing debut at the 2014 Ulster Grand Prix - and now wants to follow in his famous dad Alan Irwin's footsteps and compete on the north coast.
Aussie McConnell, 27, said: "I was at the North-West this year and it is a well-run meeting.
"It was fantastic to watch guys racing around the roads at that speed.
"There is something about having closed roads and going as fast as you can.
"It has massive appeal to everyone and I am definitely going over to have a look."
Irwin, who has made a big impact on the short circuit scene, has also been courted by the North-West organisers, and he has agreed to be on the grid next May.
"I really enjoyed my time at the Ulster Grand Prix," said the winner of five races in this year's British Supersport Championship.
"The North-West is one I have always wanted to do, really since I started thinking about motorbikes.
"I remember standing at Juniper Hill back when dad was racing. He quit in 1996 so it was a long time ago, but I still remember that.
"It is a big event and gets a lot of exposure with the live streaming on the internet. I am definitely up for doing it."