NHL star Kevin Westgarth signs for Belfast Giants
Last updated on .From the section Ice hockey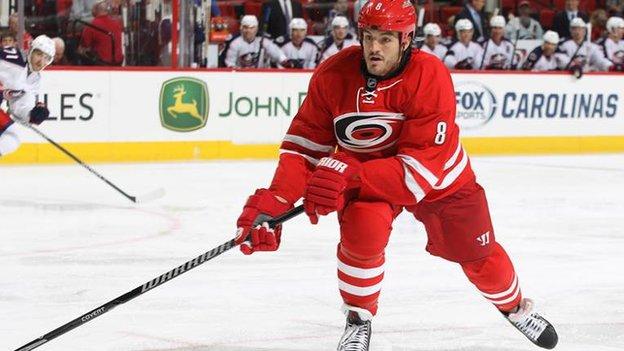 Stanley Cup winner Kevin Westgarth has joined the Belfast Giants after five years playing in the NHL.
The Canadian forward won the Stanley Cup with the LA Kings in 2012 while he has also played for Carolina Hurricanes and Calgary Flames.
"I think he's going to be a real force for us - he'll be a real presence," said Giants coach Steve Thornton.
"He's played in the top league in the world and he's a big guy who will keep other teams honest."
The 30-year-old from Ontario has played 169 NHL games in the past five seasons.
Westgarth was in the Princeton University team for four seasons from 2003 and after a move to the Manchester Monarchs of the AHL, he spent part of the 2008/09 season with the LA Kings.
He returned to the Kings after two more seasons with Manchester and lifted the Stanley Cup following the Game 6 win over New Jersey Devils in June, 2012.
Westgarth then moved on to the Carolina Hurricanes, playing 43 times before being traded to the Calgary Flames last season, icing a further 36 times for the Canadian franchise.
Thornton added: "We've been talking to him for a while, trying to get him to come over and we were trying to remain patient because guys like this, who can be a presence and can also play, are hard to find so he was definitely worth waiting for.
"He will be able to contribute offensively, putting up good numbers in college, the AHL and in the NHL, not just sitting on the bench."
"He's going to be a guy that the Belfast fans are going to like - playing with his heart on his sleeve. He stands up for his teammates and hits the dirty areas, and that's exactly what he'll do for the Giants."