Horan to manage All Stars in Boston with McGuinness Celtic-tied
Last updated on .From the section Gaelic Games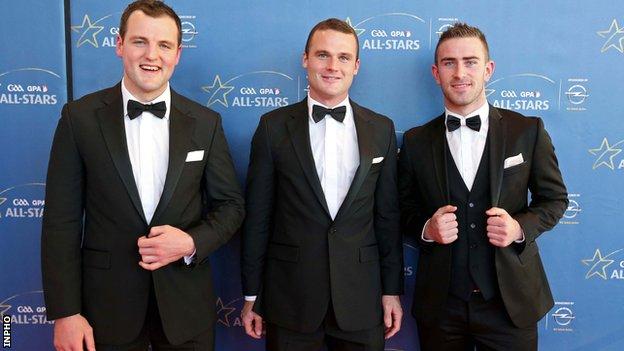 Former All-Ireland winning Donegal boss Jim McGuinness has been replaced by ex-Mayo manager James Horan on the GAA All Stars tour to Boston on Thursday.
McGuinness, who resigned as Donegal boss two months ago, is unable to lead the 31-man squad on the five-day trip due to his commitments with Celtic FC.
A total of 13 Ulster players are named in the 2013/2014 touring party.
Six players from Ulster champions Donegal, plus three from last year's winners Monaghan are included.
Tony Kernan (Armagh), Martin Dunne (Cavan) and Killian Clarke (Cavan) are among the All Star nominees to be included on the trip as are Young Player of the Year Ryan McHugh and Tyrone captain, five-time All Star, Sean Cavanagh,
Jim Gavin, who managed Dublin to the 2013 All-Ireland title, will lead the 2013 All Stars against Horan's 2014 side in an exhibition game in Canton, Boston on Saturday.
GAA/GPA All Stars tour: A O'Shea (Mayo), B Brogan (Dublin), C O'Sullivan (Dublin), C O'Connor (Mayo), C O'Riordan (Tipperary), C Walshe (Monaghan), C Boyle (Mayo), C McManus (Monaghan), D Moran (Kerry), D Walsh (Kerry), D Wylie (Monaghan), F Fitzgerald (Kerry), J O'Donoghue (Kerry), K Higgins (Mayo), K Clarke (Cavan), L Keegan (Mayo), M Dunne (Cavan), MD Maccauley (Dublin), M Murphy (Donegal), N Gallagher (Donegal), N McGee (Donegal), P Flynn (Dublin), P Durcan (Donegal), P McBrearty (Donegal), R Hennelly (Mayo), R O'Carroll (Dublin), R McHugh (Donegal), S O'Shea (Mayo), S Cavanagh (Tyrone), S Walsh (Galway), T Kernan (Armagh).