Ryan Farquhar to return to Superbike racing in 2015
Last updated on .From the section Northern Ireland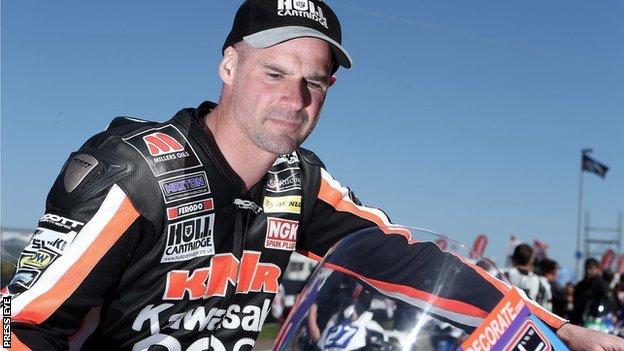 Northern Ireland road racer Ryan Farquhar is to return to compete in the Superbike class at the North West 200 and Isle of Man TT in 2015.
The 38-year-old made a return to racing in the Supertwin class last year after previously announcing his retirement from the sport in August 2012.
He hung up his leathers after his uncle was killed at the Manx Grand Prix.
Farquhar will again campaign Kawaski machinery and will also take in the Superstock class.
The KMR Kawasaki rider will contest four races over the TT Mountain Course in June, taking in the Superbike, Lightweight Supertwin, Superstock and Senior events.
The Dungannon rider has won four races at the North West and three at the TT and holds the record for the most wins ever on Irish road circuits.
Having decided to quit the sport following the death of his uncle, Trevor Ferguson, Farquhar made a partial return to the sport in 2014, limiting his appearances to the Supertwin class and selected classic race outings.
He won the re-introduced Lightweight TT in 2012 but took a relatively low-key seventh place in last year's race.
Farquhar made his TT debut in 2002 after winning the Manx Grand Prix, and now has a total of 13 podiums to his name, as well as three race wins in the 2004 Production 600cc, the 2005 Supersport B and 2012 Lightweight races - a tally he's keen to add to later this year.
"To go back to the TT with just the one bike is a waste of time. My intentions last year were to just do a few classic races and ride the Supertwin at selected races but it left me badly on the back foot," admitted Farquhar.
"It was a big disadvantage because I wasn't bike fit but I'm back in training again and I haven't trained in years, so you can take out of that what you want! I'm not going out there to waste tyres and fuel."