Michael Dunlop will relish new Yamaha challenge on roads

By Stephen Watson
BBC Sport Northern Ireland
Last updated on .From the section Northern Ireland
New year, new bike, new challenge for motorcyclist Michael Dunlop.
The 25-year-old from Ballymoney is regarded as the finest road racer in the world after a couple of record breaking seasons.
On Thursday, it was revealed that the Milwaukee Yamaha team had secured the most sought after signature in the sport, with the promise of top-level support.
Having been controversially let go by German Giants BMW at the end of last year, ironically Dunlop flew to Dusseldorf to put pen to paper with the Japanese manufacturer.
The city plays host to Yamaha's European racing headquarters where Michael Dunlop was, as you would expect, in buoyant mood ahead of new racing season.
Dunlop said he was "absolutely buzzing" after seeing his new R1 machine which is currently still in development behind closed doors.
But rewind to 14 months ago and Dunlop's state of mind was completely different.
Michael Dunlop factfile
1989: Born, 10 April 1989, Northern Ireland
2007: Makes Isle of Man TT debut
2008: Earns first NW 200 win two days after death of his father Robert in practice
2009: Takes first Isle of Man TT win as he clinches Supersport 2 victory
2013: Clinches four victories for Honda at Isle of Man TT
2014: Achieves another TT four-timer including Senior race
Dunlop was on the brink of taking a long break, and possibly quitting motorcycling, having admitted in a candid BBC Northern Ireland interview that he was struggling to handle the highs and lows of this highly dangerous sport.
The Northern Irishman had just been controversially dropped by the official Honda team, and this seemed to be a massive dent to his confidence.
After all, he had just finished a remarkable season, having secured four brilliant victories at the Isle of Man TT equalling the achievement of only two other riders before him.
But Dunlop had a change of heart when BMW put an attractive offer on the table.
They were making a return to the sport with a superbike which was untried and untested in this unique discipline of motorcycling.
Dunlop rewarded BMW with a sensational season. With very limited testing on the new machine he repeated his achievements of 2013 at the TT, becoming the first rider in history to win four races in successive years.
He also handed BMW their first superbike success in 75 years - a perfect response, some might say, to his surprise P45 from Honda a few months earlier.
But then the same thing happened again. BMW dispensed of Dunlop's services as the manufacturer opted to change direction and support a new team, formerly Tyco Suzuki.
BMW's focus will be more on the short circuit racing scene in the British Superbike Championship.
It seemed a crazy decision to let Dunlop go but he was again searching for a new job. In a further twist Michael's brother William, a Tyco employee, will now ride the BMW this year.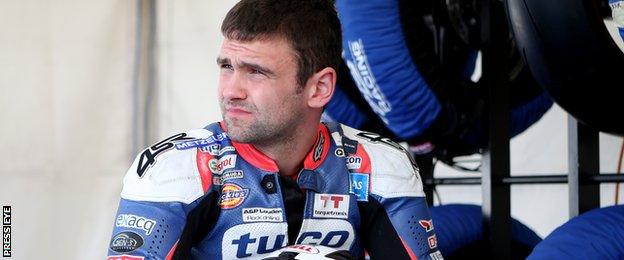 So how will Michael Dunlop respond with his new Yamaha team? In my opinion - in exactly the same fashion as he did last year.
Dunlop is undoubtedly a very special talent on bike.
Unlike Formula One where the car seems to be the most important ingredient, in this sport Michael has already proven he can win on whatever machine he sits on. Honda, Kawasaki, or BMW.
His appointment as test rider for the British Superbike team is also a very interesting development.
His bosses evidently have faith in the ability of their new recruit, who will also get opportunities at World Endurance level.
I wouldn't be at all surprised if Dunlop made the successful move to the British Superbike Championship full time at some point soon.
By his own admission road racing, apart from the healthy international scene, is sadly struggling at local level.
In his early days Michael Dunlop's nickname was The Maverick.
It hinted perhaps at his occasional ragged riding style or simply someone who liked to do things his own inimitable way.
But Michael Dunlop is no longer a "wild child".
He's a very talented young man who knows what he wants and, more importantly, knows how who how to win.