North West 200: Lee Johnston to sit out Supertwins races
Last updated on .From the section Northern Ireland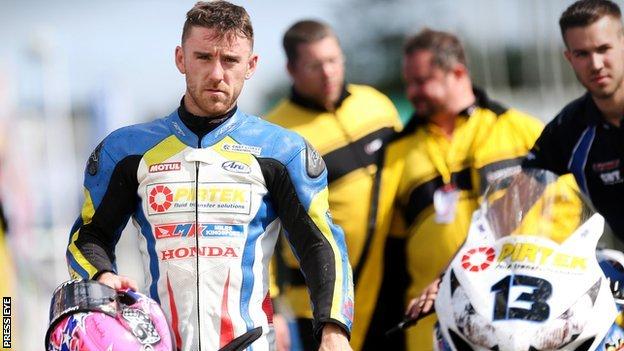 Lee Johnston, a double winner in last year's North West 200 Supertwins races, is to sit out the class at this year's event to concentrate on other races.
Johnston wants a first international win in the larger capacity Superbike and Superstock events on BMWs and the Supersport races on a Triumph.
The 25-year-old will ride a Supertwin for Ryan Farquhar's KMR Kawasaki team in the Isle of Man Lightweight TT.
Johnston has taken North West podiums in Superstock and Supersport races.
"I have sold the bike I rode last year and I want to concentrate on the bigger bikes this year so I won't be racing in the Twins races," explained the Fermanagh rider.
"When you have too many bikes you can't have that focus and I really want to try to win a 600cc or big bike race this year at the North West."
Johnston says he wants to build on the good form that he showed on a superbike at the Ulster Grand Prix and Macau at the end of last season.
"I had good runs at the Ulster and in Macau in 2014 so maybe I've proved I can ride a big bike now." he smiled.
"I want to carry that on at the North West but it is going to be tough for a small team like us against the factory boys."
Johnston's preparations for the new season begin next week with tests at Almeria and Guadix in Spain.