BBC Sport NI wants to hear about your NW200 Journey
Last updated on .From the section Northern Ireland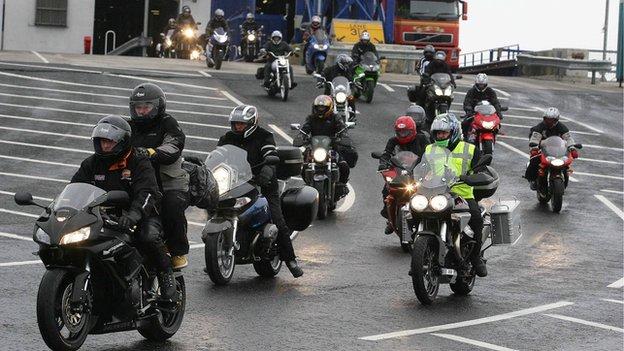 BBC Sport NI is introducing a new feature for this year's North West 200.
We want to hear about fans' journeys to the annual road racing festival which is taking place 12- 16 May 2015.
The North West 200 attracts riders and fans from all over the world - from New Zealand to North America and from Peru to Afghanistan.
This new initiative calls for biking fans travelling to the festival, from anywhere in the world, to share where they travelled from, how they got to the NW200 and any other interesting stories along the way.
We are particularly keen to hear from anyone who is already planning a trip to the NW200 from a far flung destination, or via an unusual route, and who is willing to film short snippets of themselves biking on home roads and their trip to the event.
Whatever way you plan to travel to watch the event, we would love to hear from you.
How to get involved:
Use the hashtag #NW200journeys when adding any of your NW200 journey content to social media.
Email your content, including small photos and smaller video files, to nw200@bbc.co.uk
If you want to send us larger files, including those bike fans who are planning a special road trip for this year's event, please get in touch via nw200@bbc.co.uk and we can give you access to our video transfer portal.
You can see the full guidelines on how the BBC might use your content here - User Generated Content FAQs