Eugene Laverty adjusting to move from Superbikes to MotoGP
Last updated on .From the section Northern Ireland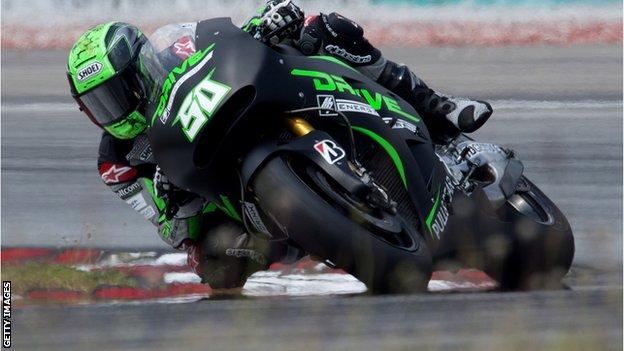 Eugene Laverty says it has taken time to adjust to riding a MotoGP machine after several years of competing in the World Superbike championship.
The Monaco-based Northern Irishman will make his debut with the Aspar Honda team at the Qatar MotoGP on 29 March.
"Everything is so different - the tyres are really different to what I've known before and the bike is really small but bit by bit I'm getting there," he said.
"I'm not sure how good the bike can be. We haven't got the best out of it yet."
"We're going testing again soon and hopefully we can get a little bit more from the Honda. I'd like to be in the top 15 from the off and hopefully work our way into the top 10.
"It's really difficult to say right now because of the fact that there are so many top riders on top bikes - there will be a lot of depth to the field this season," added the 28-year-old.
The County Antrim-born racer admits he faces a big change mentally this year as he comes to terms with not challenging for race wins in the premier class of world motorcycling.
"I've won at least one race every season for the past six years, but that's not a realistic target in my first season in MotoGP.
"I'll have to change my approach a little bit but I'm not going to be sitting back. I'll still be fighting for 10th or eighth place like I'm challenging for a race win.
"I've ridden most of the tracks before, at least 75% of them. There are a few new circuits on the calendar but because I'm more experienced now, it doesn't take me as long to learn a track. I'll also do a lot of research before I get there."
Laverty finished second on an Aprilia in the 2013 World Superbike series, but ended a disappointing 10th after a difficult season with Suzuki last year.
"This opportunity has been a long time coming. You have to look at every option on the table and see which is the best.
"This time around the best option was to make the move to MotoGP. It's the top level of racing with the best riders on the best bikes so it doesn't get much better than that.
"A lot of the other rookies are younger than me and they're very keen to see the stopwatch in testing while I've just been going about my business methodically and working my way up.
"By now though I'm ready to push for a good lap time. Next time out we should know a bit better where we are."