Craig Breen wins close Circuit of Ireland Rally
Last updated on .From the section Motorsport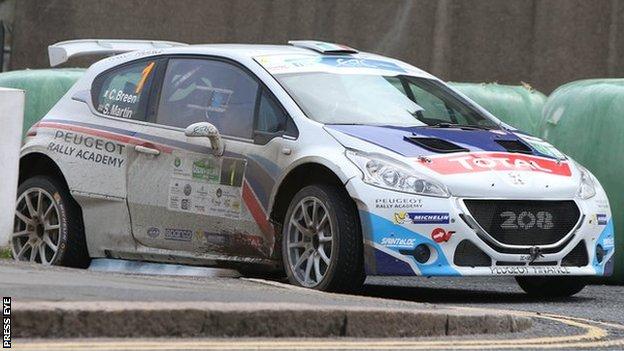 Waterford man Craig Breen has won the Circuit of Ireland Rally after one of the closest finishes for years.
Breen and co-driver Scott Martin, in a Peugeot 208, ended with a lead of just 6.4 seconds over runners-up Kajetan Kajetanowicz and Jaroslaw Baran.
Breen had been the overnight leader by one second after Friday's eight stages.
Monaghan brothers Josh and Sam Moffett were third and fourth respectively in their Fiesta RRCs while Emil Bergkvist won the ERC Junior section.
"I have nothing left - nothing in my body," said an exhausted Breen.
"Everybody in the team has rallied around me. It is unbelievable to have won the Circuit of Ireland."
Circuit of Ireland Rally 2015 final standings: 1 Craig Breen/Scott Martin (Peugeot 208) 2:04:04.5; 2 Kajetan Kajetanowicz/Jaroslaw Baran (Ford Fiesta) 2:04:04.5; 3 Josh Moffett/John Rowan (Ford Fiesta) 2:05:46.8; 4 Sam Moffett/Karl Atkinson (Ford Fiesta) 2:06:28.6; 5 Charles Martin/Thierry Salva (Peugeot 208) 2:06:45.7; 6 Jonathan Greer/Kirsty Riddick (Citroën DS3) 2:08:36.2.