Alastair Seeley clinches 13th career North West 200 triumph
Last updated on .From the section Northern Ireland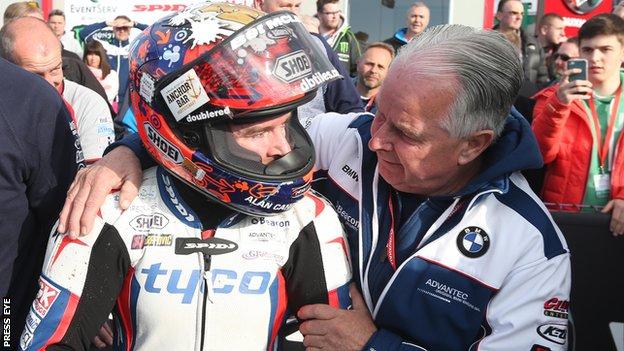 Alastair Seeley clinched a 13th career North West 200 triumph as Ryan Farquhar also earned another home win at the Northern Ireland motorcycling meeting.
Seeley trailed his fellow Carrickfergus man Glenn Irwin early on in the first Supersport race before taking control to win comfortably from Michael Dunlop.
Fermanagh man Lee Johnston completed an all-Northern Irish podium and the story was the same in the Supertwins race.
Farquhar took the Supertwins win from Jeremy McWilliams and Jamie Hamilton.
The scheduled Superstock race had to be halted on lap one following an accident involving one rider and because of fading light, organisers opted to reschedule the class for Saturday's main race day.
Tyco Suzuki rider Seeley's 13th North West win moved him level on career victories at the meeting with the legendary Joey Dunlop and Michael Rutter.
With two Superstock races now scheduled for Saturday, Seeley should have five chances to get close to or perhaps even better Robert Dunlop's all-time record of 15 wins.
However, Seeley admitted that he had been pushed hard by event newcomer Irwin over the opening two laps of the Supersport, which took place in sunny conditions on the 8.9-mile Triangle circuit.
Seeley, 35, set a new 600cc lap record of 117.077 on his way to victory as he built upon his practice dominance from this week.
Irwin, 25, had the temerity to take the lead early in the first lap and diced with Seeley regularly over the opening stages before a mechanical problem saw the Gearlink Kawasaki rider forced out.
That left Seeley comfortably at the head of affairs and he had 7.5 seconds to spare from Dunlop at the finish.
"Glenn made me work hard for this. Fair play to him," said Seeley after his win.
"But I thought: 'Try and use your track knowledge and experience' and it worked out well.
"I didn't actually realise that he had been forced to drop out."
Farquhar, 39, could scarcely contain his delight after finishing 1.26 seconds ahead of his 51-year-old KMR Kawasaki team-mate McWilliams in the Supertwins event, with Hamilton a further 8.5 seconds back in third.
The Dungannon rider's win vindicated his decision to return to racing after ending his career in 2012.
"This has to be one of my best ever wins," said Farquhar.
McWilliams attempted to challenge Farquhar on the final lap but the Tyrone man held his nerve to take a fifth career North West win.
"I knew Jeremy was going to have a go - I just didn't know where," said Farquhar as he celebrated along with his team-mate.
"Just to get on the podium is good, but it's a dream come true. And having Jeremy beside me is just fantastic."
Seeley led the Superstock event early on lap one but the race had to be stopped after Hungarian rider Sandor Bitter crashed at Ballysally roundabout.
The injured rider was taken to hospital but organisers later reported that Bitter had not sustained any serious injuries.
The halting of the Superstock race completed a frustrating day for Guy Martin after his earlier outburst about the circuit following a disappointing qualifying performance.
"(I'm) Bored to the back teeth," Martin told BBC Sport Northern Ireland.
"It's the chicanes. Riding around chicanes. I did five laps there. Bored to the back teeth. No interest. No interest. No interest," added Martin, who in addition to the motorcycling exploits, has also forged a career as a TV presenter in recent years.