Isle of Man TT: Johnston and Hamilton aiming to 'come of age'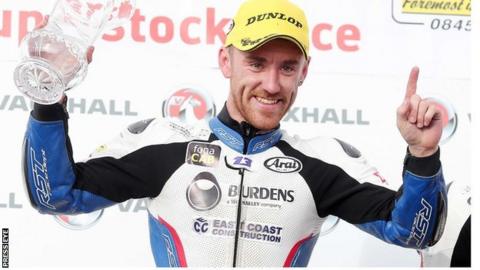 The careers of Northern Ireland road racers Lee Johnston and Jamie Hamilton have followed a similar trajectory.
Regarded as two of the more ebullient personalities in the paddock, the pair looked set for short circuit stardom after being crowned British Superstock 600cc champions in successive years.
Johnston, nicknamed 'The General' picked up the title in 2008, with Hamilton, from Ballyclare, emulating his achievement 12 months later.
The anticipated subsequent offers did not materialise however and both riders opted to turn their attention to racing 'between the hedges', where sponsorship is often easier to come by given the high profile of the sport in their native country.
After serving their apprenticeship, the duo made their Isle of Man TT debuts in 2012, Hamilton picking up the Best Newcomer Award and Johnston collecting the prize for the best privateer at the meeting a year later.
Both boast a best TT finish of fifth place so far, but having made massive progress in the rawest discipline of two-wheel sport in recent years, they are looking to make the breakthrough to secure a podium place in 2015.
2015 Isle of Man TT race schedule
Saturday 6 June 11:00 BST TT Superbike race - 6 laps
Wednesday 10 June 10:45 BST TT Zero - 1 lap
14:00 Sidecar Race 1 - 3 laps
12:00 Supersport Race 2 - 4 laps
14:30 Sidecar Race 2 - 3 laps
Monday 8 June 10:45 BST Supersport Race 1 - 4 laps
Friday 12 June 10:15 Lightweight TT Race - 3 laps
14:00 Superstock Race - 4 laps
13:00 Senior TT Race - 6 laps
"I think we showed our potential in all the classes we contested in 2014 and we are looking to build on that. It's all about learning and building up experience at the TT," said the Fermanagh flyer.
"The TT remains the priority for me, although we know how hard it is to make the breakthrough to the rostrum positions over the Mountain Course," added the 26-year-old, who works for his main sponsor, East Coast Construction.
The diminutive, but larger than life paddock jester, now lives in Great Hatfield, near Hull, having previously been based in Maguiresbridge.
His fastest TT lap to date came in last year's Superbike race at 127.391mph and the three-time North West 200 winner followed that up with his best-ever result later in the week, a fifth spot in the Superstock event.
This year he switches from a stable of Honda machinery to ride a BMW in the 1000cc 'big bike' classes, a 675cc Triumph which Billy McConnell took to British title success in the two Supersport outings and a Ryan Farquhar-prepared Kawasaki in the Lightweight category.
"I took some solid results last year despite carrying an injury from the North West 200, but now we are as ready as anyone. The win at the North West (in the Superstock class), plus two third places and a fourth, provided another good confidence boost.
"I'm starting at my favoured number 13 and that will give me a bit of incentive to catch the guys in front of me. It's great to get there fully fit as I've been injutrd to some degree over the past two years," continued the five-time Ulster Grand Prix podium finisher.
Whereas Johnston has largely confined his road racing exploits to the 'big three' international events, the North West 200, TT and Ulster Grand Prix, Hamilton has also been a regular on the national road racing scene, winning the Irish Supertwin and Supersport Championships in 2013.
"My aim is to keep on improving and bettering my lap times but I believe I can challenge for a top-three finish in the Supertwins after finishing fifth in the race for the last two years. The top 10 would be good in the other events I'm competing in," said the 24-year-old.
"I have such a professional outfit behind me in the form of the Cookstown Burrows Engineering team and all the bikes are very well prepared.
"I definitely feel there is a whole lot more to come," enthused the self-employed engineer and occasional lorry driver, who was previously part of Ryan Farquhar's KMR Kawasaki team and Wilson Craig's Honda team.