Josh Elliott sees Superstock lead cut to three points
Last updated on .From the section Northern Ireland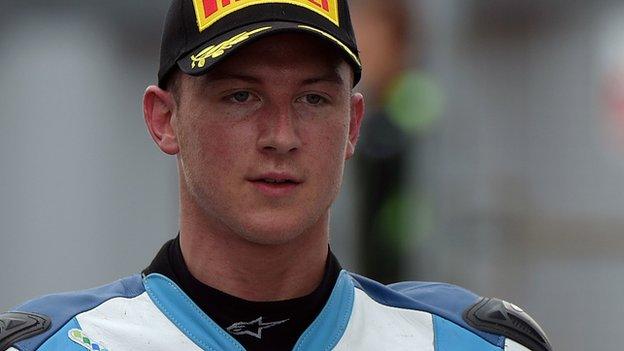 Northern Ireland's Josh Elliott has had his lead in the National Superstock 1000cc Championship cut to three points after Sunday's race at Donington Park.
The 21-year-old from Fermanagh came second to South African Hudson Kennaugh after being passed on the final lap.
North West 200 star Alastair Seeley, who had battled for the lead, had to settle for third place.
Elliott remains top of the championship standings on 85 points, Kennaugh has 82 and Seeley is third on 68.
For Morello Racing driver Elliott, it was a fourth successive podium.
He said: "I was a little frustrated with the final result, but am still happy to be leading the championship.
"We move on to Snetterton now which is a track I like and go well at."
Seeley admitted afterwards that he had miscalculated the number of laps remaining.
"It was a schoolboy error as I also missed my pit board," said the Carrickfergus man.
"I led all the way to the Melbourne Loop on the last lap but, as I didn't know it was the final time, I wasn't defending my line.
"Both of them came up the inside and I lost my drive up to Goddard's.
"I thought I had another couple of laps, so was surprised to see the chequered flag. I will learn from it and hopefully start reduce the gap to the top of the table."