Isle of Man TT: Lee Johnston gets 'big buzz' from TT racing
Last updated on .From the section Northern Ireland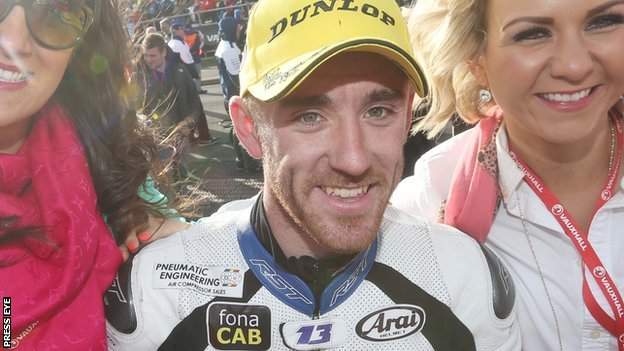 Fermanagh-born road racer Lee Johnston says there is "no feeling in the world" like competing at the Isle of Man TT.
"You get the biggest buzz of your life doing what we get to do. It almost feels like you are doing something illegal," explained the 26-year-old.
"Every rider thinks about the risks, you'd be stupid not to, but there are risks involved in other sports.
"You only realise how much speed is involved when you break down and watch the other bikes whizz past."
Johnston made his Isle of Man TT debut in 2012, won the Best Privateer award in 2013 and has a best finish of fifth in the 2014 Superstock race.
The Hull-based rider is aiming to secure his first podium this year with the East Coast Construction team, having achieved his first international four-stroke win at the North West 200 in May.
"If you don't concentrate playing football you're going to fall over or give away a goal but if you don't concentrate racing at the TT we all know what's going to happen," said the Northern Irishman candidly.
"Knowledge is the biggest thing and that can only be gained with more laps," Johnston told ITV4's 'TT Young Guns' documentary programme.
"There are a strong group of young TT riders around now, all striving for TT wins, and it is good for the future of the sport.
"Each lap is about hitting the right apexes, it's like putting a puzzle together, and it's very physically demanding.
"When you're out there, you don't really think 'here comes another kerbstone or a lamp-post'."
Johnston, who lists surfing, mountain biking and classic cars among his hobbies, describes "the section over the Mountain from the Gooseneck to the start and finish" as his favourite part of the course.
"I don't like the bumpier sections, especially when you're not much more than five feet tall and trying to hold onto the thing.
"It's all about trying to get the perfect line and knowing where you are meant to be."