Isle of Man TT 2015: Bruce Anstey sets fastest Superbike speed
Last updated on .From the section Northern Ireland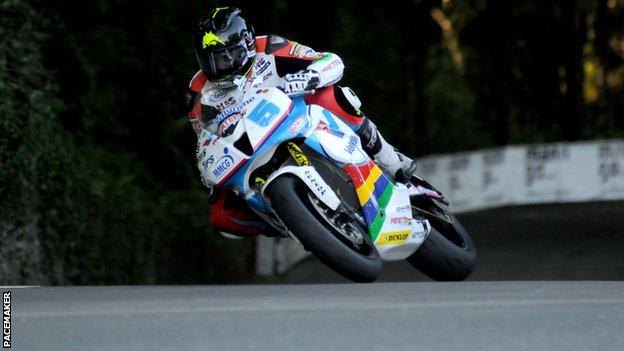 Bruce Anstey set the fastest speed in the first session of timed Superbike practice for the Isle of Man TT.
The New Zealander lapped the Mountain Course at 128.64mph, with fellow Honda rider John McGuinness close behind at 128.59, then Ian Hutchinson on 128.30.
Michael Dunlop was well down the timings at an average speed of 124.51.
Anstey also topped the leaderboard in the Supersport class at 125.21, with Guy Martin on 123.08. David Johnson was best of the Superstocks with 125.18.
On a night of favourable conditions, John Holden and Dan Sayle led the sidecar times with 112.78.
Practice continues on Thursday and Friday evenings, with the first races scheduled to take place on Saturday.
Wednesday night practice - top average speeds for a lap
Superbikes - 1 Bruce Anstey 128.64mph; 2 John McGuinness 128.59; 3 Ian Hutchinson 128.30; 4 Guy Martin 127.45; 5 Conor Cummins 127.38; 6 Michael Rutter 127.27
Superstocks - 1 David Johnson 125.18mph; 2 Michael Rutter 124.94; 3 John McGuinness 124.83; 4 Guy Martin 124.62; 5 James Hillier 124.46; 6 Lee Johnston 123.79
Supersports - 1 Bruce Anstey 125.21mph; 2 Guy Martin 123.08; 3 Gary Johnson 121.68; 4 William Dunlop 121.65; 5 Russ Mountford 121.51; 6 Michael Dunlop 121.45
Sidecars - 1 John Holden/Dan Sayle 112.78mph; 2 Dave Molyneux/Benjamin Binns 110.44; 3 Ben Birchall/Tom Birchall 110.18