Isle of Man TT: McCallen says Michael Dunlop made right move
By Richard Petrie
BBC Sport at Isle of Man
Last updated on .From the section Northern Ireland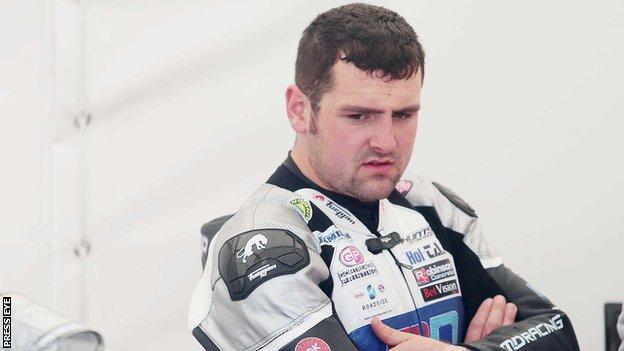 Eleven times TT winner Phillip McCallen says Michael Dunlop made the right decision to switch to bikes he believes can take him to victory at this year's Isle of Man event.
Dunlop dramatically split from his Milwaukee Yamaha team on Thursday and will now ride BMW machinery in the Superbike and Superstock classes plus his own MD Racing Honda in the Supersport races.
"For Michael, it is all about winning and that is what he is used to doing," commented McCallen.
"From that point of view he did the right thing. Road racing is a short career and you have to admire his courage."
The 26-year-old from Ballymoney equalled McCallen's tally of successes last year thanks to a second successive four-timer over the Mountain Course but called time on his partnership with the Japanese manufacturer after a disappointing start to the season and problems during practice.
"He is now on a bike he is familiar with, plus the team should have the data from last year which will help with setting the bike up," added McCallen.
Most wins in all solo classes

26

Joey Dunlop

21

John McGuinness

14

Mike Hailwood

11

Michael Dunlop, Steve Hislop, Phillip McCallen

10

Giacomo Agostini, Ian Lougher, Stanley Woods, Bruce Anstey

9

David Jefferies, Charlie Williams, Ian Hutchinson
"The TT only comes round once a year and this is his big meeting and the one with big money on offer.
"People say it may affect his long-term prospects of securing a ride but people like winners and if he goes through the card again this year he will definitely get good bikes again for next year.
"I'm sure when Michael announced he was going to ride a BMW again the rest of the field went 'oh no'. Knowing what he achieved last year they now know he is going to be a real threat.
"The fact that he was off the pace for much of practice week would have given his rivals some encouragement, but he has since put in fast laps on all the bikes he has switched to, and is well up the qualifying leader board.
"That's an ominous sign for the other competitors."
McCallen believes that there are six or seven riders who could potentially occupy the top step of the podium in Sunday's delayed Superbike six-lapper.
"John McGuinness and Bruce Anstey have remained with their tried and trusted Hondas that they have been riding for years and we know what Conor Cummins is capable of if he feels right on the bike on the day.
Fastest TT laps by solo riders
Bruce Anstey (Honda) 2014 132.29mph
Michael Dunlop (BMW) 2014 131.89mph
John McGuinness (Honda) 2013 131.67mph
Conor Cummins (Kawasaki) 2010 131.51mph
Ian Hutchinson (Honda) 2010 131.48mph
James Hillier (Kawasaki) 2013 131.38mph
"Ian Hutchinson has been flying in practice and has been building up to this moment for years, ever since he suffered his big crash at Silverstone in 2010.
"He has been through about 30 operations but now he is fit and raring to go.
"It would be a remarkable achievement if he gets on the podium and he would be a hugely popular winner.
"A lot of people thought he would never be lapping at the speeds he has reached this week but the Paul Bird Motorsport Kawasaki team have obviously put a lot of effort in.
"Guy Martin and William Dunlop also have a good chance of success but they need to be as hungry as the other leading guys and be willing to push as hard as everyone else.
"You don't know if everyone is completely showing their hand in practice as there are no grid positions at stake in qualifying."
Isle of Man TT 2015 overall practice times
Superbike:1 Ian Hutchinson (Kawasaki) 130.266 mph; 2 John McGuinness (Honda) 130.030; 3 Bruce Anstey (Honda) 129.96; 4 William Dunlop 129.42; 5 Guy Martin 128.96; 6 Michael Dunlop (BMW) 128.64
Superstock: 1 Michael Dunlop (BMW) 129.66 mph; 2 Ian Hutchinson (Kawasaki) 128.31; 3 David Johnson (BMW) 127.47; 4 James Hillier (Kawasaki) 127.12; 5 Bruce Anstey (Honda) 127.04; 6 Lee Johnston (BMW) 126.76
Supersports: 1 Bruce Anstey (Honda) 125.21mph; 2 Ian Hutchinson (Yamaha) 124.93; 3 John McGuinness (Honda) 124.48; 4 Dean Harrison (Yamaha) 124.36; 5 Gary Johnson (Yamaha) 124.31; 6 William Dunlop (Yamaha) 124.26
Lightweight Supertwins: 1 Ryan Farquhar (Kawasaki) 117.43mph; 2 Gary Johnson (WK) 117.07; 3 Ivan Lintin (Kawasaki) 116.80; 4 Jamie Hamilton (Kawasaki) 115.53; 5 Lee Johnston (Kawasaki) 115.39; 6 James Cowton (Kawasaki) 115.11.