Michael Dunlop returns home for treatment on TT injury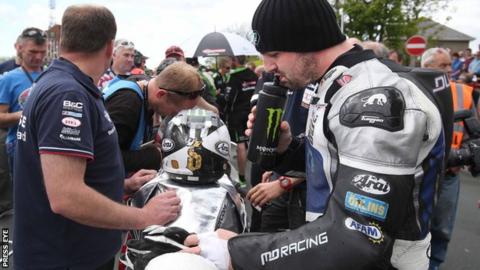 Michael Dunlop is to return to Northern Ireland to receive treatment on a shoulder injury in a bid to improve his fitness for Friday's Senior TT.
The 11-time TT winner was involved in a collision with Scott Wilson in the latter stages of the final lap of Sunday's delayed Superbike TT.
Dunlop was reported to be feeling "battered and bruised" after the crash.
"Six laps is not going to be easy in the condition I am in," conceded the Ballymoney rider.
The 26-year-old has competed in three subsequent races, retiring in both Supersport events, but producing a courageous ride to take second behind Ian Hutchinson in the Superstock class.
"My priority is to get as fit as I can for the big race.
"The physio in the Isle of Man has done a great job getting me in some sort of condition to get me out on track but it needs more work.
"One crash has ruined my whole week, through no fault of my own, but these things happen in racing."
Dunlop took his first triumph in the blue riband Senior event last year, to complete his second successive four-timer at the annual races.
His elder brother William returned home earlier in the week after sustaining a broken rib and severe bruising in a crash during a practice lap at the Laurel Bank section of the circuit.