World Superbike star Jonathan Rea samples thrills of TT races
By Richard Petrie
at the Isle of Man TT
Last updated on .From the section Northern Ireland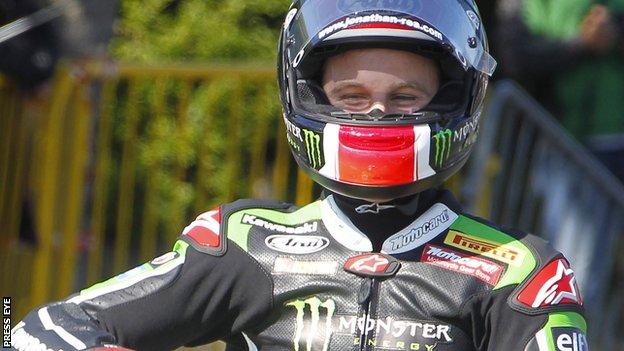 Jonathan Rea cuts a relaxed figure as he soaks up the sun and the atmosphere on the island that has become his home in recent years.
The 29-year-old Northern Ireland-born rider, who has a whopping 134-point lead at the top of the World Superbike standings, took time out to meet fans and go on a parade lap with some of his championship rivals at the Isle of Man TT.
"I promised my team that I would bring them all here for a mid-season holiday and the whole event is awesome. The island just comes alive and everyone is having a really good time," said Rea.
"The lap of the course was absolutely unbelievable and I know why these guys do this now. I almost hit two seagulls on the Mountain Mile and it's something I will remember for a long time."
The former World Supersport competitor was fulsome in his praise for comeback hero Ian Hutchinson, who completed a hat-trick by winning Wednesday's Supersport race.
Yorkshireman Hutchinson, 35, underwent 30 operations after being involved in a horror crash at Silverstone five years ago.
"What Ian Hutchinson has done is incredible. Everyone in the paddock wanted him to win and some big movie producer needs to pick up on his story. It is the comeback to top all comebacks."
He expressed concern however for the welfare of his good friend, Scottish road racer Keith Amor, who is in Noble's Hospital in Douglas after crashing on the world's most demanding and unforgiving circuit.
"The first thing I did when I landed was go to the hospital to see Keith," he said. "He looks pretty beaten up and he hasn't had a proper diagnosis yet. He got lucky.
"This is an event that everyone loves but when a rider crashes and they say that he is 'OK', it's really a TT 'OK', which means it is not the worst that it could be.
"He has some problems in his neck and back. When you see some of these guys in hospital, they are not in good shape. It reminds you of the highs and lows of the whole thing."
Reflecting on his trailblazing start to the World Superbike series, which has yielded 10 wins and four runners-up spots from 14 starts, Rea sounded a note of caution.
"I have a comfortable gap now but I'm not naive enough to think that I have it all wrapped up as it is sport and anything can happen," he said.
"When I first rode the ZX-10R Kawasaki, I couldn't believe how easy a bike it was to ride and here we are with the highest number of points any rider has ever had mid-season.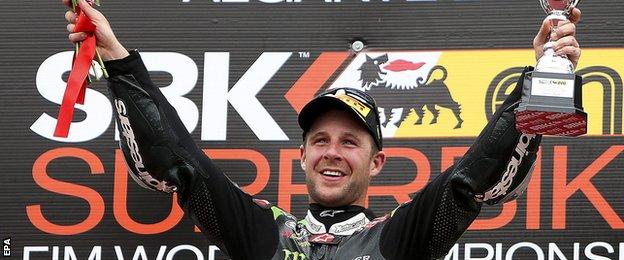 "I just want to keep on doing the same thing and keep on winning and if I do that the championship will look after itself.
"I need to be careful, even when I am out on my bike or trials bike, as one mistake could shatter my dream.
"I feel like this is my time and I feel like a more complete rider. I'm very grateful to Kawasaki for giving me this opportunity."
The World Superbike series rolls into Italy next week for the Misano round, a prospect which Rea is relishing.
"Misano is a race I always look forward to as the Italian fans are crazy and I chalked up my first World Superbike win there in 2009, so I have a lot of good memories.
"Kawasaki had a 1-2 there last year so I'm confident that I can do a really good job."