Ulster Grand Prix 2015: Glenn Irwin aiming for wins at Dundrod
By Richard Petrie
BBC Sport NI
Last updated on .From the section Northern Ireland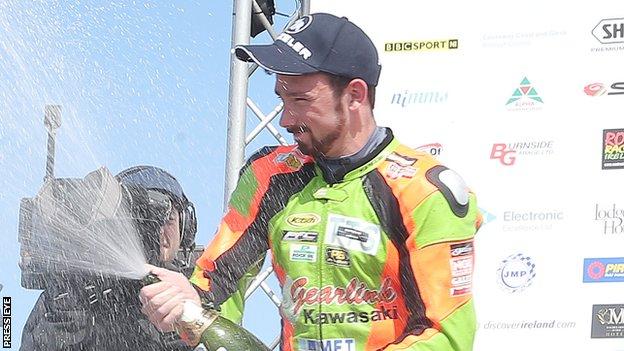 British Supersport regular Glenn Irwin signalled his potential as a road race star of the future by making a promising debut at last year's Ulster Grand Prix at Dundrod.
The Carrickfergus rider broke the existing lap record in the Supertwins class and finished fifth in the event at the Dundrod 150 national meeting on Thursday of race week, after being involved in a four-way scrap for second place.
This year, the 25-year-old is setting his sights higher however as he seeks to secure a first win at the event.
"I'm going there with the attitude that I want to win and I'm carrying a lot of confidence into the meeting after some good results in the British Supersport championship," said Irwin.
"Last year was not just my first Ulster Grand Prix, but also my first ever road race so I rode very conservatively, while still breaking the lap record.
"Unfortunately mechanical problems meant I had to pull in after the sighting lap on Saturday but this year I'm aiming for at least one win.
"It's a roads circuit and you have to respect it but I maybe respected it too much first time out. It's still tarmac racing, only it's a little bit more enjoyable. It's an incredible circuit to ride.
"It's not that different to circuit racing really, it's only if you crash that it's very different, but I'm looking forward to going back there and being on the Gearlink Kawasaki machine that I ride week in, week out."
The former Irish Supersport champion will also compete again in the Supertwins class at Dundrod, riding for John Burrows's Cookstown BE Racing team.
The son of former Irish champion Alan, the County Antrim man further underlined his credentials for future success in the most demanding of two-wheel disciplines by vying for a maiden triumph on his first appearance at the North West 200 in May.
"People were not sure how I would do but I qualified fourth in the Supersports and broke down in the Thursday night race while battling for the lead and for the win.
"Saturday's race was more enjoyable as there were three of us going for the win and I threw the usual tactics that are needed to win there out the window.
"People tell you that you don't want to lead at Portrush but I thought 'let's do this differently' and unfortunately I made a small error at Black Hill, left the kerb and gave Alastair (Seeley) some room to pass."
Irwin currently lies third in the British championship, with two wins to date this season, but insists that despite the more obvious dangers, the attitude he adopts for the roads is not that different from that he employs for short circuits.
"You try the exact same as on the short circuits but you have to adapt to a slightly different riding style.
"On the circuits you are braking heavily the whole way into a corner at maximum lean angle while, for road racing, you brake harder straight upright but when you get to the apex of the corner, you tone it back a bit to eliminate a little bit of the risk.
"People talk about riding at a certain percentage on the roads to take account of the dangers but I can assure you that if you win a road race at international level, you are really trying."