Marty Nutt calls time on motorcycle racing career
Last updated on .From the section Northern Ireland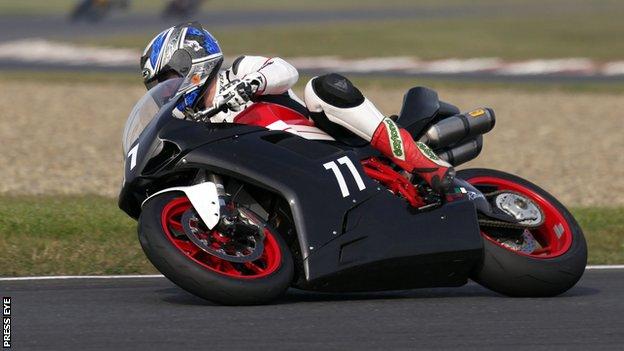 Northern Ireland motorcyclist Marty Nutt has retired from racing with immediate effect to concentrate on family and business commitments.
The 38-year-old started his career back in 1998 and is an ex-Irish Supersport champion and Sunflower Trophy winner.
The Castlerock rider went on to ride in the British Superbike Privateer's Cup and British Supersport Championship.
Nutt won the Ducati 848 Challenge series in 2013 after finishing on the podium in 15 of the 16 races.
He ended the season 27 points clear of nearest rival Jonathan Railton.
Using the new 899 Ducati Panigale in 2014, Nutt was unable to retain his crown but still finished third overall after a late season charge saw him take three wins and 10 podium places in total.
He was back for more this year and although he arrived at Knockhill this weekend lying in second overall, and just five points behind leader Robbie Brown, he decided the time was right to bow out.
Speaking about his decision, Marty said: "It's not been an easy decision to make but, at the same time, it's been on my mind for a while now.
"I've still been enjoying my racing and riding the bike but the long gap after the last round at Donington Park got me thinking. Seeing two friends, Stephen Thompson and Jamie Hamilton, get injured, I started to look at the bigger picture and with the family business going well and a young family to look after, I've decided my priorities and commitments lie with them.
"I came to Knockhill this weekend and gave it a go but after the first practice session, I felt my heart wasn't quite in it like it used to be and decided to stop straightaway."
"I've been road racing for almost 20 years, and spent time in motocross before that, so I've been at it a long time now and have been fortunate to experience some great times.
"I've competed in some great Championships, ridden for some great teams and met a lot of good people along the way so I'm grateful for the career I've had. I'd just like to thank everyone that's supported me over the years, especially all my sponsors, family and friends."