Jamie Hamilton has 'no memory' of biking career following TT crash
Last updated on .From the section Northern Ireland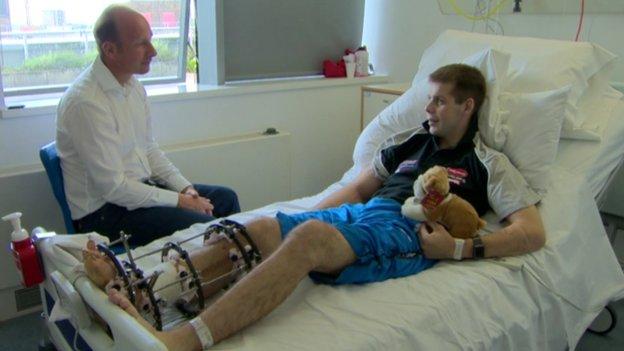 Jamie Hamilton says he has no memory of ever riding a motorcycle following a high-speed crash at last month's Isle of Man TT.
Northern Irish rider Hamilton sustained head injuries plus a broken arm and leg after crashing at 170 miles per hour.
Hamilton, 24, remains in hospital but says that, despite not remembering the crash or indeed ever racing, he intends to compete again.
"I don't remember racing at all ever," Hamilton told BBC Sport NI.
Ballyclare man Hamilton was giving his first broadcast interview since the crash in the Senior TT event on 12 June.
He spoke a day after the announcement that his fellow Northern Ireland rider Stephen Thompson had lost an arm following his serious crash at the North West 200 in May.
Crumlin rider Thompson underwent surgery to have the arm amputated earlier this week.
Four weeks before his Isle of Man crash, Hamilton achieved podium finishes at the North West 200 meeting in Northern Ireland when he took third in both Supertwins races.
But the rider says he has no memory of those achievements - or any other races during his career.
"I couldn't tell you where I've finished at any track over the past few years," added Hamilton.
"Something comes back every day and I have a memory of something that happened two and a half weeks before my crash but I don't remember ever sitting on a bike or riding it.
"Hopefully that comes back because I feel the need at the minute that I want to get back on a bike."
Hamilton's right leg is currently supported in a cage, which will probably have to remain on until Christmas.
Two plates also had to be inserted into his broken arm but the main medical concern is his memory.
"I know my arm and my leg will heal at some stage but nobody can do an operation in your brain that can make you remember stuff," he said.
However, Hamilton is insistent that he does want to race again.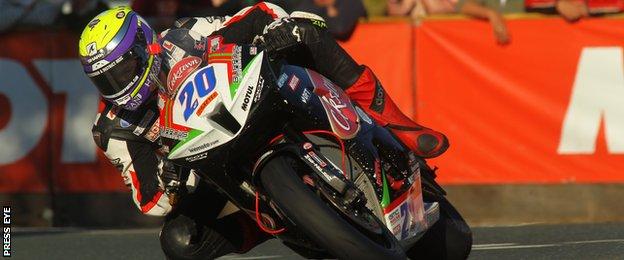 He said: "I feel lucky to be here at the minute and to be able to tell a tale and here in the hospital, the staff have been absolutely brilliant with me.
"I still have a long way to go in the recovery but I look forward to getting back on a motorbike."
Hamilton says that he "totally understands" people who will question his sanity at even thinking about the possibility of racing again.
"I can understand exactly where they would be coming from but I couldn't imagine myself not racing a motorbike," he said.
"I don't know what I would do. At the end of the day, I've got the ultimate buzz in road racing."
During Hamilton's three-week period of sedation following his Isle of Man crash crash, well-known motorbike medic Dr John Hinds was killed at a motorcycling meeting in county Dublin.
Hamilton was told the news of the doctor's death after he woke up and the Ballyclare rider says that he can recall being treated by Mr Hinds when he crashed during a meeting a number of years ago.
"I broke my pelvis and dislocated my shoulder and I remember Dr John at the scene and the way he dealt with it."
Hamilton added that he was saddened to learn that his fellow rider Thompson had lost an arm following his North West 200 crash in May.
"I feel sorry for Stephen. I know him quite well."