Ulster Grand Prix introduces Superpole qualifying session
Last updated on .From the section Northern Ireland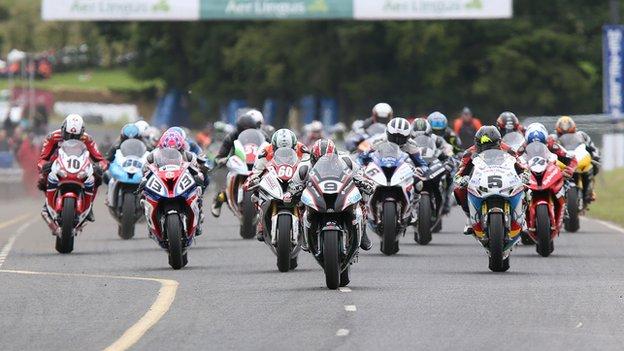 The Ulster Grand Prix organisers have announced that they will introduce a new Superpole qualifying session for Superbikes in 2016.
The move is designed to make the battle for pole position on the starting grid more exciting for competitors and fans.
The fastest 12 riders in the Superbike practice session on Thursday 11 August will return to the grid later in the day for a special timed event.
The format was used in World Superbikes and is to be introduced in BSB in 2016.
Riders that fail to qualify for Superpole will start the race from 13th position onwards based on their qualifying practice results.
Additional practice time accommodates new session
Noel Johnston, Clerk of the Course at the Ulster Grand Prix said: "I've wanted to introduce a Superpole session at the Ulster for a while and now that we've reshuffled our practice timings we are able to accommodate it.
"The session will consist of one individual warm up lap immediately followed by two individual laps for each of the top 12 Superbike riders, allowing them an opportunity to secure their eventual grid position on a fair basis.
"It's an added bonus for the spectators too, as each rider will attempt their fastest lap on a clear track, without obstacles or direct competition.
Format has proven popular
"It's a format that was used in World Superbikes for many years and something BSB have also introduced for 2016, and it's always proven extremely popular.
"It's a bit of a shake up for us but I believe it will be extremely well received for the roads, and we're looking forward to what will surely be an electric qualifier.
"The thought of watching Michael Dunlop, Ian Hutchinson, hopefully Guy Martin and some of the other big names out on track, on their own, pushing the bikes on a flying lap is a spectacle not to be missed."