North West 200: Record-chasing Alastair Seeley dominates final practice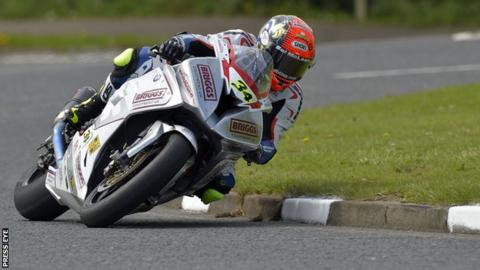 Alastair Seeley looked on course to become the all-time North West 200 record race winner after earning three pole positions in final practice.
After topping the Superstock and Supersport sessions, Seeley, 36, took a dramatic Superbike pole as he finished 0.01mph ahead of Michael Dunlop.
Seeley and Dunlop's late father Robert jointly hold the record with 15 wins.
A rider had to be airlifted to hospital after sustaining what organisers said were "non-life threatening injuries."
The incident at Mill Road roundabout led to the closing Superbike practice being ended some 30 minutes ahead of schedule.
A statement from race organisers said that the rider had been taken to the Royal Victoria Hospital by air ambulance.
English rider Dan Cooper was fastest in the Supertwin session ahead of Ryan Farquhar and Ivan Lintin.
Carrickfergus man Seeley showed his intent with a stunning Superstock lap early in Thursday's session which was only 0.14mph slower than his later Superbike pole-clinching circuit.
Seeley's Superstock time of 120.207 was still 0.35 ahead of evergreen Michael Rutter, 44, with Peter Hickman (121.17) third fastest.
Record-chasing Seeley topped Supersport qualifying with a best lap of 116.97 which left him just ahead of Martin Jessopp (116.54) and Fermanagh rider Lee Johnston (116.47).
William Dunlop, John McGuinness and Hickman completed the top six in the Supersport session with the highly-fancied Ian Hutchinson only managing 12th after having some bike problems.
Michael Dunlop looked to have held on to his provisional pole position for much of the Superbike session before Seeley's late heroics.
Thirteen-time North West 200 winner Rutter continued his impressive form to qualify third fastest with Johnston, Hickman and Hutchinson occupying fourth to sixth slots.
North West 200 leaderboard after final practice
Supertwin
1. Dan Cooper - 108.11mph
2. Ryan Farquhar - 107.561
3. Ivan Lintin - 107.404
4. Martin Jessopp - 106.348
5. Peter Hickman - 106.769
6. James Hillier - 106.766
7. Jeremy McWilliams 107.554
Superstock
1. Alastair Seeley - 122.207
2. Michael Rutter - 121.85
3. Peter Hickman - 121.17
4. Ian Hutchinson - 120.80
5. Michael Dunlop - 120.66
6. Lee Johnston - 120.26
Supersport
1. Alastair Seeley - 116.97
2. Martin Jessopp - 116.54
3. Lee Johnston - 116.47
4. William Dunlop - 115.58
5. John McGuinness - 115.41
6. Peter Hickman - 115.09
Superbike
1. Alastair Seeley - 122.34
2. Michael Dunlop - 122.33
3. Michael Rutter - 121.65
4. Lee Johnston - 121.06
5. Peter Hickman - 120.91
6. Ian Hutchinson - 120.89
North West 200 race schedule
Thursday 12 May - Roads close from 17:00 BST to 21:00 for racing
Race 1 - Supersport (6 laps); Race 2 - Supertwins (4 laps); Race 3 - Superstock (6 laps)
Saturday 14 May - Roads close from 09:30 to 19:00 for racing
Race 1 - Supersport (6 laps); Race 2 - Superbike (7 laps); Race 3 - Supertwins (4 laps); Race 4 - Superstock (6 laps); Race 5 - NW200 Superbike (7 laps)