Isle of Man TT 2016: Injured William Dunlop will sit out Supersport race
Last updated on .From the section Northern Ireland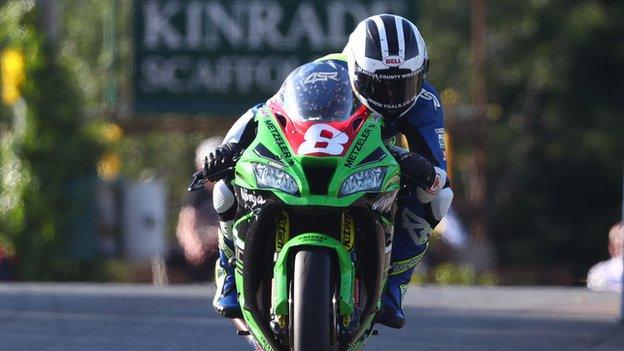 William Dunlop has pulled out of Wednesday's second Supersport race at the Isle of Man TT.
Dunlop, 30, is struggling after sustaining back and hand injuries after crashing on the opening night of practice at the road racing meeting.
"It's a shame because it's ruined my TT," said the Ballymoney rider.
Dunlop suffered the injuries when he came off at Sarah's Cottage on 28 May which led to his retirement from the Superbike race on Saturday.
The Northern Irishman, who is still hoping to ride in the Superbike race on Friday, says the nature of his injuries aren't enough to prevent him from riding but are severely hampering his efforts.
Podium hopes dashed
The Ballymoney man was seventh in the first Supersport race on Monday and eighth in the Superstock.
Dunlop's brother Michael clinched his 12th TT triumph when he won Saturday's opening Superbike race at the meeting.
"My hand is a bit sore and my back is really bad, unfortunately I went back first into the wall," added William, who has earned five TT podium finishes, but is yet to achieve a win at the meeting.
"It's not serious but it's left me struggling on the bike. I just have no power."
Dunlop had high hopes of a podium finish in the Supersport events.
"With so much practice through the week and no days off in between, it's been too much to be honest with you.
"It's alright if you're fully at yourself, but I'm not."