Paul Jordan to ride Superstock BMW machine for first time at Cookstown 100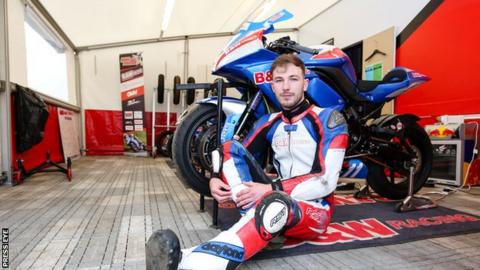 Paul Jordan is to make his first appearance on a Superstock machine at the Cookstown 100 road races.
The 25-year-old has secured a deal to ride a BMW S1000RR for Isle of Man-based company Evolution Camping.
The Magherafelt rider, who was man of the meeting at last year's event, will make his Isle of Man TT debut in June.
Jordan formerly competed in the British 125cc championship and had already submitted entries for the Supersport and Supertwins classes at Cookstown.
"This will be my first run out on a competitive Superstock bike and I'm really looking forward to the experience," said Jordan.
"I've heard a lot of great reports about the BMW, so it'll be great to finally get to dip my toe in the water in the 1000cc class after so long on the smaller bikes."
Having started racing in 2005, he finished third in the 2008 British 125cc championship and seven years later won the 125cc Irish Road Race Championship.
Last season he was runner-up in the 125cc and Supertwin Irish Road Racing Championships and finished third in the Supersport class on the roads.
The Cookstown 100 takes place on 28 and 29 April.